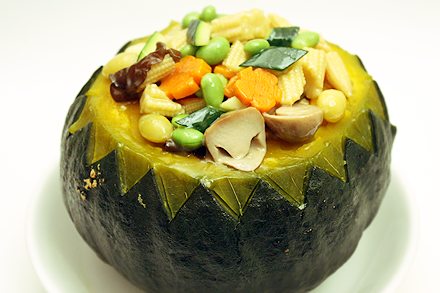 As a newly arrived foreign student from Singapore during my university years in Boston, I had to learn the customs and traditions of American holidays. Although I was already familiar with Christmas and New Year celebrations, Thanksgiving was totally unknown to me. For my first Thanksgiving in America my roommate invited me to spend the holiday with his family in New Hampshire. Unbeknownst to me I was to experience a classic yet quaint practice of American holiday celebration: an enormous turkey dinner and a football game.
I soon learned that watching a football game on television is not unique to Thanksgiving but is repeated for Christmas and New Year. I've never quite understood the appeal of watching a football game during a holiday celebration. It is an activity that is devoid of human interaction, defeating the purpose of a family gathering. But sharing a turkey dinner accompanied by an array of side dishes brings the family together and is the ultimate pleasure of holiday festivities.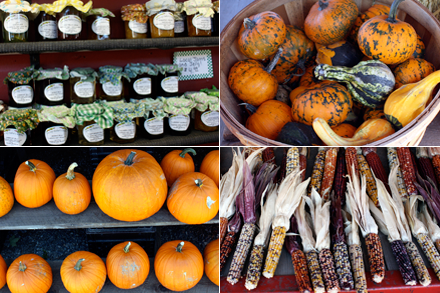 Over the years I learned to prepare the turkey dinner and began hosting Thanksgiving gatherings. I normally cook a traditional New England turkey dinner of roast turkey with oyster stuffing, creamed peas and onions, mashed winter squash, and mashed potato. The dinner almost always ends with apple pie and pumpkin pie. All in all it is a very traditional and satisfying dinner.
But I often wondered what other Chinese immigrants do to adapt to the American Thanksgiving holiday tradition. A quick survey of my Chinese colleagues and former schoolmates resulted in a very interesting glimpse into Chinese culinary ingenuity. One colleague roasted turkey stuffed with glutinous rice stuffing, and another completely abandoned turkey and made crispy roast duck instead. These were accompanied by crispy stir-fried pumpkin and gai-lan with Chinese bacon.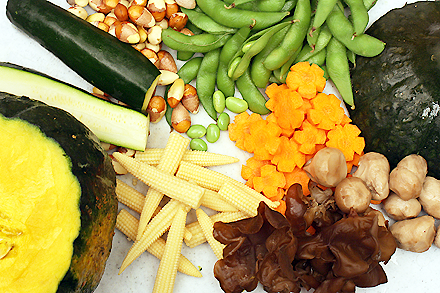 Personally I've never attempted a "Chinese" Thanksgiving dinner. If I did I thought a vegetable side dish could enhance the meal. So I created a pumpkin bowl dish served with a stir-fry of seven vegetable ingredients. They represent the Buddhism believe of seven treasures (七珍) in people: faith, perseverance, sense of shame, avoidance of wrongdoing, mindfulness, concentration and wisdom. These powers of faith are certainly something we can reflect on as we think about the meaning of Thanksgiving.
So if you're as tired of distractions caused by the Rose Bowl and the Orange Bowl as I am, then abandon football and bring the family back together with this Pumpkin Bowl. Happy Thanksgiving to all!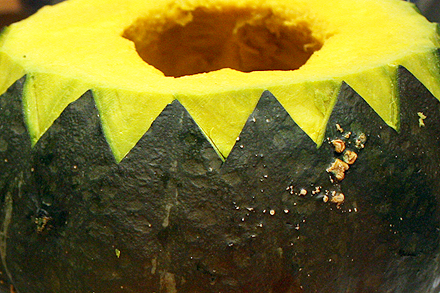 Seven Treasures Stir-fry in Pumpkin Bowl (七珍南瓜盅)

Preparation time: 15 minutes
Slow cooking time: 1 hour
Rapid cooking time: 15 minutes

5 lb. whole kabucho pumpkin
1 medium size carrot
1 zucchini
1/2 cup shelled green soybean or edamame (毛豆)
1/2 cup straw mushrooms (草菇)
1/2 cup baby corn cut into 1/2-inch pieces
1/2 cup gingko nuts (白果)
1 oz. dried wood ear mushrooms (木耳)
1 clove of garlic thinly sliced
4 thin slices fresh ginger
2 tablespoons vegetable oil
1/4 cup Shaoxing cooking wine
1/4 cup vegetable stock
1/2 teaspoon salt
1/2 teasppon ground white pepper
1 teaspoon cornstarch
2 tablespoons water

First prepare the pumpkin bowl by cutting off the top creating an opening of about 8 or 9 inches in diameter. Scoop out the seeds from the pumpkin and carve a decorative pattern on the edge of the bowl if you wish. Steam the pumpkin in a wok on top of a wire rack for about 40 minutes.
While the pumpkin is steaming prepare all the other ingredients for the stir-fry. Slice the carrot crosswise to create wheels of about 1/8 inch thick. Cut the zucchini lengthwise into quarters then cut off the seeds. Then cut it on the bias to create diamond shapes about 1/2 inch wide. Cut the baby corn on the bias to create 1/2 inch long pieces. Reconstitute the wood ear mushroom and tear into one inch square pieces. Set all the ingredients aside until ready to stir-fry.
If you use fresh gingko nuts you will have to remove the brown skin covering the nuts. In a small saucepan parboil the nuts in water over low heat for about ten minutes. Be sure there is enough water to cover all the nuts. Drain and set aside when done.
When the pumpkin is soft remove from the wok and put it on a serving plate. Discard the liquid from the wok and dry with a paper towel. Add the vegetable oil to the wok and heat until beginning to smoke. Add the garlic and ginger slices to the wok. Stir-fry for about 30 seconds then add the carrot slices, cooking wine and vegetable stock. Cook the carrots covered for about one minute. Uncover and add the zucchini, green soybeans, straw mushrooms, baby corn, gingko nuts and wood ear mushroom. Stir-fry for about one minute then add the salt and ground white pepper. Continue stir-frying for one more minute then add a slurry of cornstarch and water to thicken the liquid.
Fill the pumpkin bowl with the stir-fried vegetables and serve immediately.