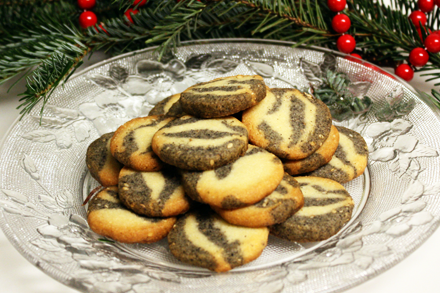 It has been more than five years since we lost our cat, Lily, to cancer. Warren and I were very fond of her, and until now just couldn't bring ourselves to adopt another cat. We finally decided we've given ourselves sufficient "adjustment" time. Early this year our friend Grace Young, author of The Wisdom of the Chinese Kitchen and The Breath of a Wok, had suggested we consider the Only Hope Cats Recue, Inc. when we were ready. So last week we finally contacted Kris at Only Hope Cats and found our beautiful four-year old rescued gray tiger tabby, Brandon.
We wanted a sociable and friendly cat. We also didn't want another white cat like Lily that would remind us much too much of her. So Kris matched us with Brandon. When we first met him Warren sat on the floor cross-legged to pat him, and he immediately walked up and sat on Warren's lap as if on queue. That was all it took for us to make our decision.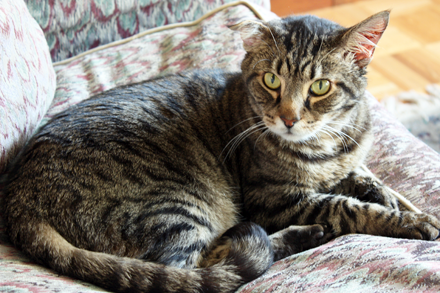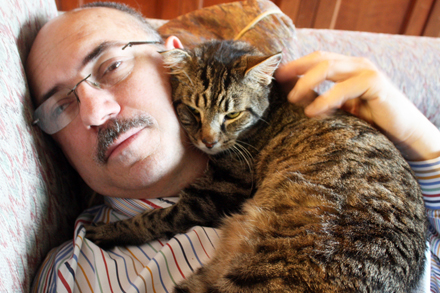 Brandon was delivered to us a few days later after a complete medical examination. He felt comfortable in his new home and adjusted to it immediately. But we were tentative about his name. Since he was not answering to Brandon anyway we decided to give him a new name. Xiao Hu (小虎) sprang to mind almost immediately. The name means "little tiger" in Mandarin, and since he has black and gray tiger stripes we thought it very appropriate.
With Xiao Hu now part of our family I wanted to create a cookie recipe for Christmas in his honor. And while I was at it I also decided to enter this Christmas cookie recipe in the Bon Appétit Blog Envy Bake-Off as well. This is a recipe for tiger striped cookies and I'm calling them Christmas Tiger Cookies. So vote for the recipe at the Bon Appétit site!
My Christmas Tiger Cookies are made from two flavors of cookie dough, black sesame and almond, which share a common base. I like the combination since the two flavors compliment each other. Besides, the black and yellow stripes create a beautiful tiger fur design on the cookies. However, if you are a purist, you can also make separate batches of sesame or almond cookies from each type of dough. Each individual flavor can easily stand up on its own.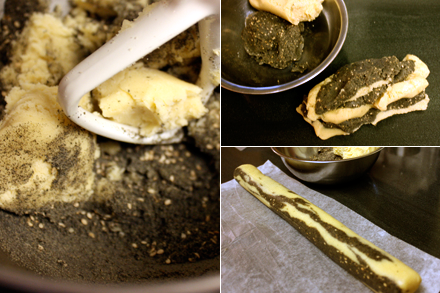 Xiao Hu loves to watch me cook and sat on the kitchen counter while I developed this recipe. He alternately balled up on my recipe notes when I measured the ingredients, or sat bolt upright when I turned on the Kitchenaid. It is a very pleasant surprise for me to gain not just a new member in the family but a new comrade in the kitchen as well.
So help us welcome our little tiger and oh, I assure you no cat hair got into my cookie dough.
Christmas Tiger Cookies (芝麻杏仁餅乾)

Preparation time: 30 minutes
Slow cooking time: 30 minutes

Common Dough

3/4 cup unsalted butter
1 1/3 cups white sugar
1 egg
2 cups flour
1/2 teaspoon baking soda
1/4 teaspoon salt

Black Sesame Dough

1/2 cup black sesame powder
2 tablespoons white sesame seeds

Almond Dough

1/4 teaspoon almond extract
1/2 cup almond flour

Sift the flour with the baking soda and salt in a bowl and set aside. Cream the butter and sugar in an electric mixer fitted with flat beater until well blended. Add egg and continue to blend. Then add the flour mixture and blend until the dough is smooth. At this point the dough will be moist but not sticky.
Divide the dough equally into two portions. Use a scale to make sure they are evenly divided. Blend the almond flour and extract into one half of the common dough then set aside. Blend the black sesame powder and white sesame seeds into the other half of the common dough and set aside. If you blend them in the above order you need not clean the bowl since the black sesame powder will not discolor the almond dough.
Divide each flavored type of dough in half again. Then alternately layer the almond and black sesame dough to form a long irregular rectangular block. I use three layers each of the two flavors of dough. Shape the dough into a long cylinder of about 1.5 inches in diameter and roll up in parchment paper. Repeat the process with the rest of the dough. Refrigerate the cookie dough cylinders for at least four hours before cutting.
You can get black sesame powder in Chinatown markets. Alternatively, lightly toast a cup of black sesame seeds in a frying pan on moderate heat for about two minutes, and then blend the seeds in a blender until completely pulverized. You can buy ready made almond flour in the market or make it by pulverizing blanched white almonds in a blender.
Preheat the oven to 375 degrees F. When you are ready to bake the cookies simply unroll the parchment paper from the dough and slice the dough into rounds about 1/8 inch thick. Place the round dough on baking sheets and bake for about 8 minutes or until the edges just beginning to turn brown.
Cool the cookies and store in airtight jars until ready to serve. Enjoy!