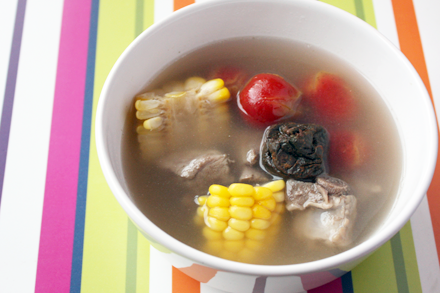 One of my favorite activities when traveling is to visit local food markets. Last week, while wandering through the produce section of a wet market in Shanghai, I found something I'd never seen before. A large unmarked basket was full of miniature bright red fruits freckled with light brown dots that resembled crabapples. They had long green stems attached, and visible sepal crowns at the bottom. According to the friendly wrinkled-faced vendor I had stumbled upon haw fruit.
Known as haws (山楂), these fruits of the Chinese hawthorn bush are widely consumed in China. They are eaten fresh, used in soups or sweet dishes, or processed into a variety of candies and snacks. Although I'd never seen haw fruit before I am not unfamiliar with foods made with it.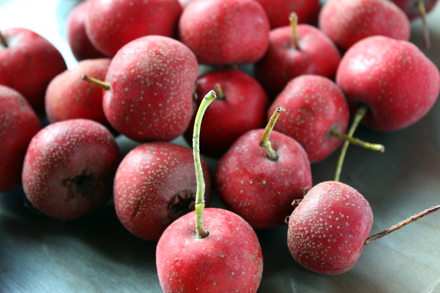 If you've traveled in Beijing or anywhere else in northern China, you've probably encountered vendors bearing long wooden stalks skewered with brightly colored round candied fruits. This is tang hulu (糖葫蘆) made by covering fresh haw fruits in caramelized sugar, in a method similar to the candied apple. The tart haw contrasts with the sugar coating and creates a very appetizing sweet and sour sensation. Although there are modern versions of tang hulu made with other fruits such as pineapple and kiwifruit, most people still prefer the original haw fruit version.
In Shanghai I've found sugared haw ribbons that have the texture of Ameican Twizzlers, and soft candies in clear cellophane wrappers made from haw. But my favorite haw snack since childhood days in Singapore remains haw flakes (山楂餅), which are thin one-inch diameter discs of light burgundy colored dry cakes. Like NECCO wafers, they are sold in cylinder shaped paper wrappers. I remember removing them one disc at a time from the package to make them last as long as I could, while savoring the sweet berry-scented, slightly tart taste of each flake.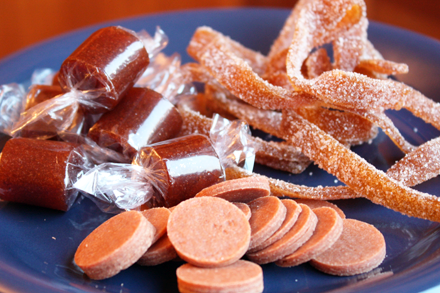 Although often used in sweets and snacks, haw fruit is more often considered as a medicinal ingredient in China. In Chinese herbal medical science haw is used as a digestive aid, a treatment for chronic heart failure, and a postnatal tonic for women. A recent medical study by Kao Erl-Shyh even reported that there is evidence that haw fruit may have a potential therapeutic use in reducing tumors in skin cancer patients.
Having discovered this versatile ingredient, I couldn't wait to cook something with haw. I searched cookbooks in Shanghai and Chinese recipes online, and find numerous recipes. There are different ways to make sweet porridge and sweet fruit soups, as well as many sauces for stir-fries. In the end I decided to try a savory soup recipe for this post. This soup is recommended as an herbal preparation for heart disease prevention. I can't tell you how effective this is medically, but I can tell you the soup turned out delicious. It has a tart berry-like flavor and is satisfyingly rich, which makes it perfect for a cold weather meal.
Haw and Pork Ribs Soup (山楂排骨湯)

Preparation time: 15 minutes
Slow cooking time: 1 hour 15 minutes

12 oz. pork ribs
8 oz. fresh haw fruit (or 4 oz. dried haw)
4 oz. prunes
1 ear fresh corn cut into 1-inch pieces
4 slices ginger root
1/4 cup Shaoxing cooking wine
6 cups chicken stock or water
1 teaspoon salt
1/2 teaspoon ground white pepper

Use short cut ribs for this soup. Ask your butcher to cut the ribs into about 1.5 inch lengths. Parboil the ribs in a five-quart stockpot with about four cups of water, or enough to cover all the meat. Cook the ribs for about five minutes and continuously skim off the scum that forms on top of the liquid.
Drain the ribs and discard the liquid. Then add the rest of the ingredients into the pot and cook the soup over low heat. Simmer for about one hour while skimming off any scum that forms on top of the soup. Serve hot.
You can substitute fresh haws with the dried variety available in Chinatown. Only use half the weight if you are using dried haws.