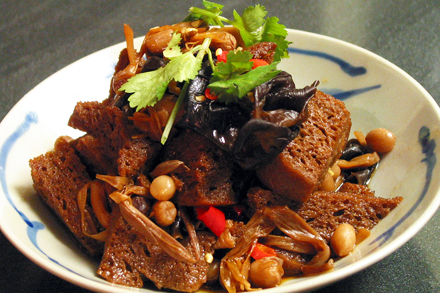 I was living in Shanghai two years ago when two of my friends from New York came to visit. It was their first visit to China and everything was novel. On the evening of their arrival I took them to the rooftop terrace at a café called New Heights. We had a few drinks and watched the "light show" on the buildings across the river in Pudong. We then headed to dinner at Jade Garden, a Shanghainese restaurant, where I ordered braised bran dough (烤麩). You see my friends are rather well informed when it comes to dining, and rightly so because they frequently venture into New York's many ethnic restaurants and travel extensively overseas. But they had never heard of bran dough and found it a rather curious dish. It contained tiny pieces of sponge-like dough braised in soy sauce and other ingredients. They weren't quite sure what to expect initially, but I was confident it would be love at first bite. I was not wrong.
Ask any Shanghainese about their favorite appetizer and chances are they will mention bran dough. But what the heck is bran dough? You ask. Well, even most Shanghai natives are at a lost for how to explain this very Shanghainese food ingredient to foreigners. It looks like bread yet has a mild tofu-like flavor. Indeed many people mistake it as a soy product. But it is really a type of gluten product and is originally from Shanghai. Similar to seitan the dough is made from wheat gluten with bran added for extra texture. Yeast is also added to raise the dough, which is steamed into a spongy cake before being sold in blocks.
There are many ways to prepare bran dough but it is almost always cooked in a braising liquid that flavors the dough. The best know preparation is called Four Happiness Bran Dough (四喜烤麩). The four happiness in this dish traditionally refers to wood ear mushrooms, dried lily flower buds, peanuts and bamboo shoots. But many recipes interpret them differently. Some call for dried shiitake mushrooms, daikon radishes, carrots or lotus seeds. Personally I prefer the traditional list. The ingredients are cooked together in a rich soy sauce braising liquid. It is usually served at room temperature dressed with sesame oil. The dish tastes slightly sweet and full of earthy flavors from the wood ear mushrooms and lily flower buds. It definitely makes an excellent appetizer before a grand meal.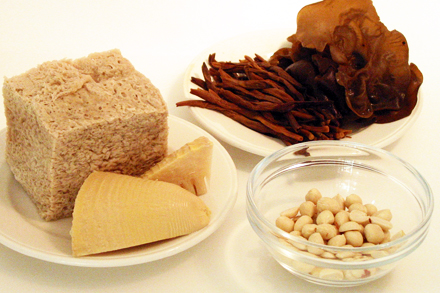 In China bran dough is sold fresh in blocks. They can be found in the refrigerated section near the tofu products. For years only the dried version was available in America. Recently, however, I've been able to obtain them fresh in Chinatown markets. One brand is made locally in Queens and others imported from China.
Last week I invited the two friends, who visited me in Shanghai, for dinner. I served Four Happiness Bran Dough made from the recipe below. I finish the dish with extra chili oil and chopped pickled chili because they both love spicy Chinese food. Apparently this was the first time they've eaten bran dough in America. They were delighted because they have been searching for bran dough in every Chinese restaurant they visited ever since returning from China.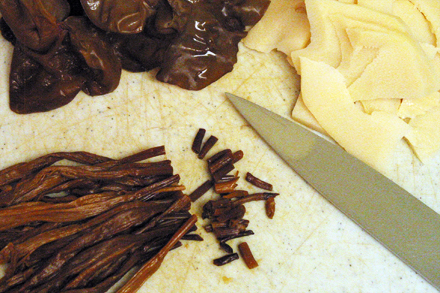 Four Happiness Bran Dough (四喜烤麩)

Preparation time: 20 minutes
Slow cooking time: 45 minutes

8 oz. fresh or reconstituted bran dough (烤麩)
3 oz. uncooked peanuts
4 oz. bamboo shoots thinly sliced
1/2 oz. dried wood ear mushrooms (木耳)
1/2 oz. dried lily flower buds (金針菜)
1/2 cup hot water to reconstitute the wood ear mushrooms and lily flower buds
1 tablespoon dark soy sauce
1 teaspoon light soy sauce
1 tablespoon sugar
1/4 cup Shaoxing cooking wine (紹興料酒)
1/4 cup water
1 tablespoon sesame oil
Chopped scallions and cilantro for garnish

Reconstitute the wood ear mushrooms and lily flower buds together in 1/2 cup of very hot water. Let sit for 15 minutes until it is cool. Boil the peanuts in about 1/2 cup of water for about 10 minutes. Drain well and set aside. Cut the bamboo shoots into 1/16 inch thick slices and tear the bran dough into chunks of about 3/4 inch wide.
Drain the wood ear mushrooms and lily flower buds, and reserve the liquid. Trim off the stem ends of the lily flower buds and the root part of the wood ear mushrooms. They tend to be quite tough otherwise.
In a wok or a medium saucepan put the bran dough, peanuts, bamboo shoots and the reserved liquid from reconstituting the mushrooms and lily buds, as well as all the liquid ingredients except for the sesame oil. Cook for about 20 minutes on medium heat until the liquid has been absorbed into the bran dough. Add the wood ear mushrooms and lily flower buds and continue to cook for another 10 minutes.
Remove from heat and let cool. Serve at room temperature. Just before serving pour the sesame oil over the dish and garnish with chopped scallions and cilantro.