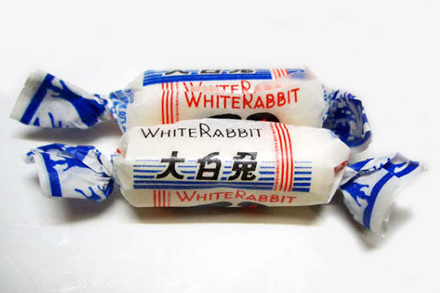 I routinely read Asian news reports on several Chinese language Web sites, and this Friday morning was no different. But on that morning as I read the alarming and ever expanding number of news reports on tainted Chinese dairy products, I started feeling a growing unease at my regular consumption of Chinese food products. After an announcement on September 21st by the Agri-Food and Veterinary Authority of Singapore that melamine was detected in the White Rabbit Creamy Candy from China, the candy was pulled off the shelves in many Asian markets. The Manufacturer finally announced a recall in China on Friday. As it happens White Rabbit Creamy Candy is one of my favorite candies. I've enjoyed them since my youth in Singapore and continue to purchase them here in New York's Chinatown. After discarding my White Rabbit candies at home I wonder how I can keep my food supply safe.
I often marvel at the fact that I can go into an American supermarket and buy virtually anything on the shelves without concerns about threats to my personal health and safety. This was not the case when I was living in Shanghai a few years ago. Grocery shopping in China can be very stressful because of the constant doubt about the quality of the products you purchase.
I relied on a lot of ongoing discussions with other fellow expatriates as well as local Chinese friends for their knowledge of product safety. Unlike in America, where the press is free to report on food contamination, it is well known that the controlled Chinese media does not have this ability. Most people rely on word of mouth to learn which food products to avoid. For those without contacts to local authorities or political connections, the quality of the information passed on informally is always questionable.
Ultimately I developed a rather complex strategy for grocery shopping. My strategy is to rank different product by their sources. The safest most reliable products are usually foreign groceries imported into China. I would include Chinese sauces and condiments produced in Hong Kong, Taiwan or Singapore in this same ranking. Imported products at many American or European operated supermarkets in Shanghai are just as diverse as in any New York or Paris markets. Unfortunately, they also come at a premium price.
My second line of defense was to buy products made in China under a foreign brand. The reasoning is that in order to protect their brand franchise, and justify a higher price, foreign companies will have higher production standards and stricter quality control. The flaw in this assumption is that the ingredients supplied to these manufacturers are sourced locally. And that's where the contamination originates. Only last week the Hong Kong authority found melamine contamination in the Nestle Dairy Farm Pure Milk product. Even purchasing these products does not guarantee safety.
I often found myself using strategies that my American neighbors in Harlem practice, which is to buy food that has been processed as little as possible. Often though I did not have the luxury of time to prepare everything from scratch. In America one might also try to "eat locally", but in Shanghai that was not exactly advisable because tainted foods are produced locally. This led me to generally avoid local and discounted brands.
This White Rabbit candy incident is making me think seriously about developing a strategy for my Chinatown shopping. Perhaps I should dust off my Shanghai strategy. What would you do when you need to buy Chinese food products? Would you rely on the American government to stop contaminated products at the border? Write and tell me your thoughts.