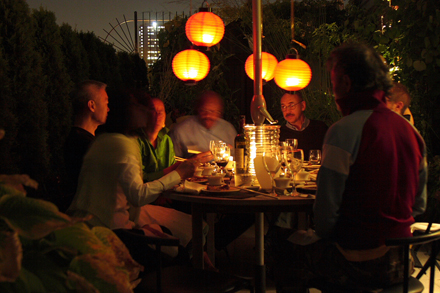 Photography by Ron Boszko
In Chinese cultures the Mid-Autumn Festival is the most anticipated holiday after Chinese New Year. It is celebrated on the 15th day of the eighth month of the Chinese lunar calendar, which fell on September 14th this year. While my family celebrated on that day with a traditional family gathering and an evening of sumptuous food and mooncakes, I am using this opportunity presented by FoodBuzz to celebrate again with my "extended family" in my new neighborhood of Harlem USA.
This time, I'm infusing traditional Chinese dishes with the flavors of Harlem. Beef short ribs celebrate the African-American soul food tradition, while bacalao with glutinous rice is inspired by the Latin flavors of Spanish Harlem. Tea smoked duck cooked in the French style – seared and served rare – represent European cooking traditions.
Then there are the mooncakes. Since mooncakes can be filled with almost anything, I really had a wide range of choices. My final All-American fillings include maple walnut, cherry almond, and Earl Gray tea. But the one that I thought everyone would like is the apple cinnamon-filled mooncake, which used the ingredients of the good old All-American Apple Pie.
中秋賞月宴
Mid-Autumn Festival Banquet

Harlem USA
Saturday, September 20th, 2008
—
Aperitif
Eve's Cidery Northern Spy Apple Cider
Finger Lakes, New York
—
四色小涼菜
Assorted Cold Appetizers
麻辣拌蓮藕 Lotus Root Salad with Spicy Dressing
水晶火腿凍 Ham in Wine Aspic
四川口水雞 Cold Chicken in Spicy Sesame Sauce
皮蛋拌豆腐 Preserved Eggs with Cold Tofu
鴛鴦炒雙鮮
Double Sauce Shrimp and Scallop
Preiss-Henny Biodynamic Riesling 2005
Alsace, France
—
漳茶鴨兩吃
East West Tea Smoked Duck
梅香牛仔骨
Sour Plum Braised Beef Short Ribs
Kanonkop Kadette 2006
Pinotage, Cabernet Sauvignon, Merlot
Sustainable Farming Winery in South Africa
—
菊花田雞湯
Chrysanthemum Frog Soup
挾飽紅燒肉
Red Cooked Pork with Steamed Buns
Chateau Moncontour Vouvray Demi Sec 2006
France
—
干貝燜冬瓜
Dried Scallop Braised Winter Melon
松子糖醋魚
Sweet and Sour Sea Bass with Pine Nuts
糯米西鹹魚
Glutinous Rice with Bacalao and Pumpkin
Bonny Boon Ca' del Solo 2007
Biodynamic Muscat
Sonoma Coast, California
—
中秋月餅
Assorted Moon Cakes
核桃楓糖月餅 Maple Walnut
櫻桃杏仁月餅 Cherry Almond
蛋黃公爵茶月餅 Earl Grey Tea with Salted Egg Yolk and Pine Nuts
蘋果肉桂月餅 Apple Cinnamon
Dining outdoors for the Mid-Autumn Festival celebration is a tradition that's been practiced for centuries. Known as "shangyue" (賞月), families gathered under the full moon while enjoying a meal and mooncakes. Unfortunately with the urbanization of China this practice is waning. In the spirit of reviving this tradition I chose to hold this event at the Harlem penthouse garden of Nobu Otsu and Joe Healy. Nobu has a supreme passion for gardening. In his rooftop terrace he has created an Eden-like garden complete with espaliered apple trees, pear trees, grapevines, berry bushes, a full vegetable garden, as well as a spectrum of flower gardens.
Nobu not only has a passion for gardening but also has the same passion for wine. He owns The Winery, a boutique wine store, in Harlem. He agreed to help me pair wines for the Banquet. In keeping with his all-natural and biodynamic gardening philosophy he selected some very exciting biodynamic wines from different parts of the world.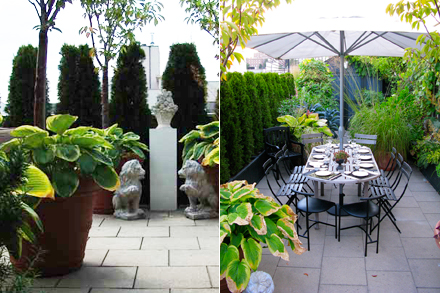 Photography by Ron Boszko
To help me execute this full ten-course meal Dalia Jurgensen agreed to assist me in the kitchen. Dalia has helped me present a few of my Private Chinese Kitchen events, where I offer a traditional private dining experience in Harlem. Dalia was a pastry chef at Nobu, La Cote Basque and Veritas in New York. Dalia is also writing a memoir about working as a pastry chef in New York to be published by Putnam in the spring of 2009. The book is called SPICED: Salty Chefs, Bitter Waiters and My Sweet Life As A Pastry Chef has been described as a sort of Kitchen Confidential meets Bridget Jones diary. With a credential like this I know I will not have any trouble with the cooking.

Photography by Ron Boszko
Now the only other help I needed was someone to take photographs. What would a food blog be without gorgeous pictures? So I enlisted my friend Ron Boszko, a photographer extraordinaire whose studio is right next to my office. With Ron's help I was able to concentrate on cooking and serving our guests.
To round out the guest list I invited Sheron and Joe Barnes as well as Wendy and David Chan. Sheron is the proprietress of MoBay restaurant and Baton Rouge in Harlem. Sheron was a pioneer in revitalizing the new Harlem. Her restaurant was one of the few that opened up when Harlem was still shunned by many New Yorkers. Wendy is the president and founder of Definity Marketing a marketing consulting firm with a large portfolio of Asian brands and products.
Our guests arrived at dusk in time to enjoy the garden in the sun's fading light. Nobu served a beautiful sparkling cider, as aperitif, from Eve's Cidery located in New York State's Finger Lakes district. It was flavorful yet dry with a very nice fruity aftertaste. Sheron observed that it was a pleasant surprise when compared to many often too sweet versions of sparkling cider.
By the time we started the cold dishes it was getting dark, so we lit the traditional red paper lanterns and began our dining extravaganza by the flickering candle light. The cold dishes consisted of Lotus Root Salad with Spicy Dressing, Ham in Wine Aspic with Mustard Mayonnaise, Cold Chicken in Spicy Sesame Sauce, and Tofu with Preserved Egg Topping. These are mostly classical dishes except for the Ham in Aspic, which I replaced a cured pork recipe with ham and added a mustard mayonnaise topping to give it a little zing.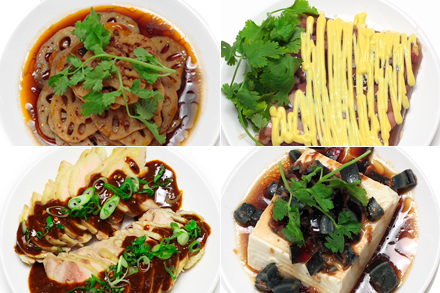 Photography by Ron Boszko
After the cold dishes I served a shrimp and scallop stir-fry. Each shellfish was made with a different sauce. The shrimp was in a tomato sweet and sour sauce while the scallop was in a simple white garlic sauce. The contrast between the two sauces brought out the wonderful seafood flavors.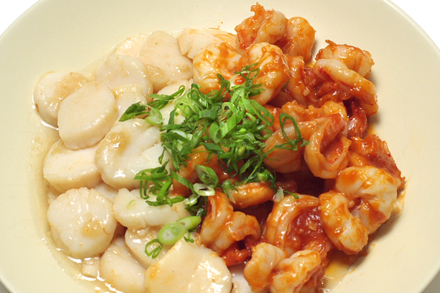 Photography by Ron Boszko
Nobu paired these two courses with a 2005 biodynamic Riesling from Preiss-Henny of Alsace. This Riesling was clean with a very smooth fruitiness that beautifully compliments both courses.
Next I served the Tea Smoked Duck, which I interpreted in two ways. The duck legs served in a traditional crispy Chinese version accompanied by sweet bean paste, and the breasts were served seared rare with an orange star anise sauce. The contrast of the two sauces reminded me of how multi-cultural culinary tradition can enhance such great experience in flavors.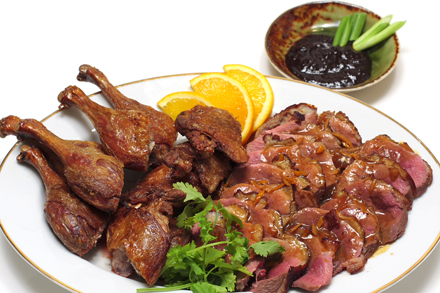 Photography by Ron Boszko
I followed the duck with another modern interpretation of braised short ribs. I based this dish on the soul food tradition but braising the meat in a Chinese sour plum preparation. The cut of short ribs I used was based on Chinese method however. The ribs were cut thinly across the bone resulting in bite size pieces that could be easily handled by chopsticks. The flavor is fruity and sweet with hints of ginger.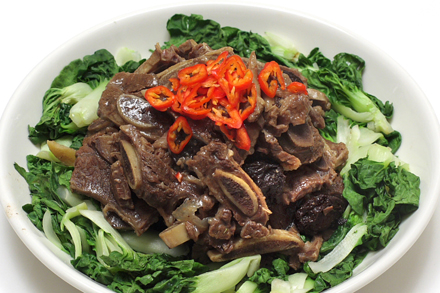 Photography by Ron Boszko
Now for these two darker meat dishes Nobu aptly paired a full bodied 2006 South African Pinotage blend from Kanonkop. This wine was full of berry flavors yet had very complex smoky rich flavor that I thought was the perfect accompaniment for the duck and the short ribs.
For soup I decided to serve a frog broth scented with chrysanthemum, which is a classic Cantonese preparation for chicken soup. I selected this soup to highlight the autumn chrysanthemum as an ingredient. The soup had a slightly bitter herbal flavor that is great as a mid meal palate cleanser.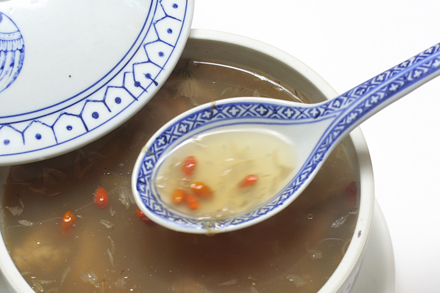 Photography by Ron Boszko
Of course I could not offer a banquet without my signature dish of Red Cooked Pork. I presented it with the customary steamed buns. As always it was a hit and I was amazed at how the meat just disappeared along with second servings of steamed buns.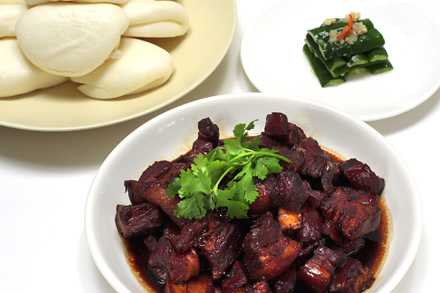 Photography by Ron Boszko
To accompany these two milder flavored dishes Nobu selected a 2006 Vouvray Chenin Blanc from Chateau Moncontour. This wine had a smooth low acidity taste that blends almost seamlessly with the soup while contrasting with the pork belly.
I served winter melon for the vegetable course. Just like tofu, winter melon is very much tasteless and will absorb flavors from any cooking liquid. So I prepared a deep rich broth from dried scallop and finished it with mushrooms and carrots. When you bite into the melon a burst of complex flavors is released.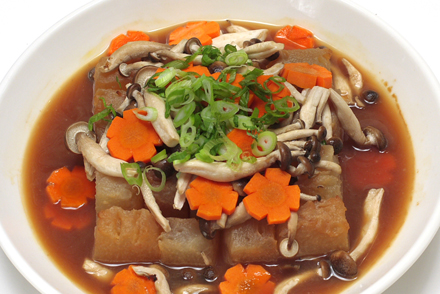 Photography by Ron Boszko
We now reached the fish course and I decided to serve a wonderful version of sweet and sour sauce on a deep fried whole sea bass with pine nuts. This dish was based on a traditional Zhejiang dish. Instead of a traditional Chinese yellow fish I used fresh American sea bass. What turned out was a moist meaty dish with wonderful nutty flavors. All the guests enthusiastically enjoyed this dish.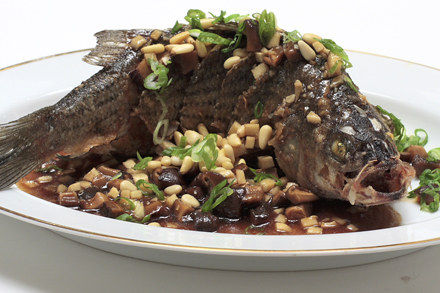 Photography by Ron Boszko
The starch course was another one of my modern interpretations. Glutinous rice steamed in lotus leaves with toppings is a common preparation in Southern China especially in Fujian province. I decided to use this technique and topped it with bacalao and pumpkin that was further flavored with Chinese cured bacon.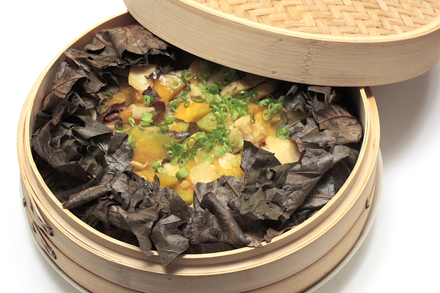 Photography by Ron Boszko
For the final wine pairing Nobu chose a 2007 Bonny Boon Ca' del Solo to accompany three courses. This fruity and mildly sweet biodynamic Muscat surprisingly was able to compliment all three courses successfully. I suspected that this was possible because all the dishes were seafood based. It was an excellent choice by all accounts.
And finally I served my homemade mooncakes. I've made four different varietiess of filling for this banquet. They included Maple Walnut, Cherry Almond, Earl Gery Tea with Salted Egg York and Pine Nuts, and Apple Cinnamon. They were all American in inspiration but one that stood out was Cherry Almond as the favorites of the guests.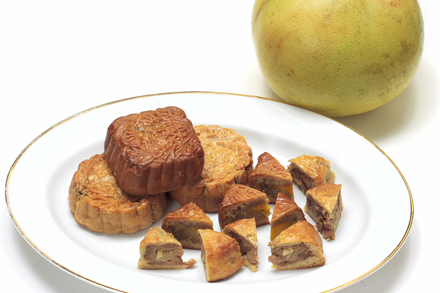 Photography by Ron Boszko
As we wound down the dinner Wendy lamented how a Mid-Autumn banquet like this under a full moon is rarely experienced in Asia anymore. Maybe I will be able to catch the attention of the younger generation of Chinese foodies by showing a modern revival of an old tradition. I had an amazing experience creating this menu, blending traditional Chinese with modern American interpretations, and fusing flavors, textures and aromas of many food traditions. It was evident from tonight's lively conversation around the dinner table that there is a constant buzz about Chinese food and its role in American culinary scene. A good Food Buzz.