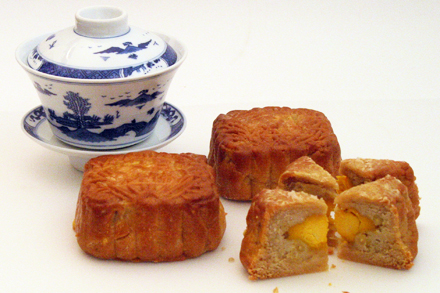 All my friends thought I was out of my mind when I told them I was going to make homemade mooncakes. Well you see mooncake is one of those things better left for a professional bakery to make. Making them is time consuming and can be very tricky to handle. But the idea of making them at home intrigued me, and I was determined to make an attempt for the Mid-Autumn Moon Festival this year. In fact I wanted to experiment with more modern and innovative flavors. So, I got on Amazon and ordered two mooncake molds
and made my very first homemade mooncakes: Earl Grey Tea Mooncakes with Egg Yolk and Pine Nuts.
You might be very familiar with the traditional Cantonese style mooncake, which is made with a very thin bread-like wrapper around many different sweet paste filling. What you probably don't know is that there are many other numerous varieties from various regions of China. Different regions in China have their own traditions of making wrappers and fillings. Some wrappers are made with flakey pastry-like dough instead of the simple flour dough. And then there is another whole variety known as ice skin mooncakes (冰皮月餅), which are made with snowy white, almost translucent rice flour dough. But it is the filling that makes the cake, and there is a seemingly endless list including lotus seed paste, sesame paste, red bean paste, caramel custard and other sweet pastes. They are sometimes even made with savory filling. Many bakeries in China are now becoming very innovative and offer new modern flavors.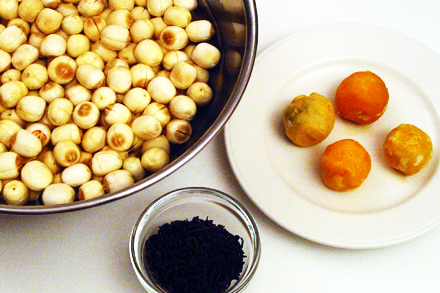 For my first stab at making mooncake I decided to make Cantonese style. But I wanted the filling to be a little more modern. So I created an Earl Grey paste made from lotus seed paste and strong Earl Grey tea, plus pine nuts for extra texture. I also like salted egg yolk in traditional mooncake, so I decided to put one in each of the cake. In this recipe I chose to replace lard, which is the fat of choice in traditional Chinese pastries making, with vegetable oil. It may not be as tasty but at least is healthier.
Making the filling did not cause too much of a problem for me because I've made lotus seed paste before. But wrapping the dough around the filling was a challenge. The first few I made, I couldn't get the dough to be a consistent thickness around the cake. I then researched for tips among Chinese language blogs and discovered that the dough should not be rolled out. Instead use your hand to form a bowl shape thin dough wrapper, before dropping the filling into it.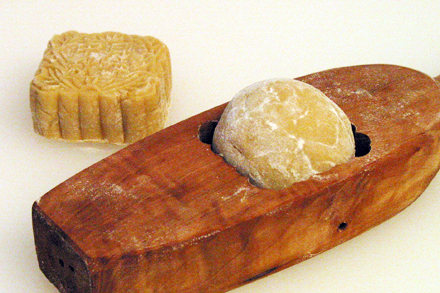 It took me an entire afternoon to make this batch of mooncakes. I love the result and I like the fact that no preservatives went into making them, unlike commercial varieties that need to extend their shelf life. Making mooncakes truly is a labor of love, so if you feel compelled and are adventurous then lets make them. Here's the recipe.
Earl Grey Tea Mooncake with Egg Yolk and Pine Nuts (蛋黃公爵茶月餅)

Preparation time: 1 hour 30 minutes
Rapid cooking time: 2 hours 30 minutes

Wrapper

1 1/2 cup all purpose flour
1 teaspoon baking soda
2 tablespoon vegetable oil
1/2 cup sugar
1/2 cup water

Earl Grey Tea Lotus Seed Filling (公爵茶蓮蓉餡)

6 oz. dried lotus seeds (乾蓮子)
5 cups water
1/2 cup sugar
1/4 cup vegetable oil
2 tablespoons very strong Earl Grey tea (made from 1 tablespoon tea leaves steeped in 1/4 cup hot water)

Other Ingredients for Filling

4 cooked salted duck egg yolks
1/4 cup lightly toasted pine nuts
1 egg, beaten for use as egg wash

Soak the dry lotus seeds in 2 cups of water overnight. Drain the water off and put the seeds in a pot, then add 3 cups of water. Boil the seeds on low heat for one hour. Cool the lotus seeds for about 15 minutes then mash them along with the water in a blender. Add sugar, vegetable oil and tea, and continue to pulse in the blender. Press the mashed lotus seeds through a medium mesh strainer. Remove any large chunks of seeds. Now pour the thick paste into a wok. Cook the paste over low heat while stirring constantly. Be sure not to burn the paste. Cook for about 20 minutes until the paste is very thick. Note that as the paste cools down it will further dry to a point where it can be formed into a ball by hand.
While the filling is cooling make a caramelized syrup for the wrapper dough. Over medium heat boil the sugar and 1/4 cup of water, stirring constantly until the sugar caramelized. Then add the other 1/4 cup of water to dissolve the caramel into a syrup. Mix the baking soda into the flour. Then add the rest of the ingredients. Mix all the ingredients thoroughly and set aside.
Scoop the egg yolks from the cooked salted eggs. The best way to accomplish this is to use a sharp knife and slice the egg shell all the way around. Try not to cut through the yolk. Then separate the half shells without breaking the yolk. Use a teaspoon to carefully scoop the yolk out and clean the egg white off. Do not try to peel cooked salted eggs. They will disintegrate.
When you're ready to make the cake, mix the pine nuts into the lotus seeds paste and separate both the filling and dough into four equal portions. Shape the filling into a deep bowl using your thumb and the palm of the other hand. Drop the egg yolk into the center and roll the filling into a ball. Form the dough for the wrapper into a bowl shape and drop in the filling. Extend the dough bowl so that the filling is completely enclosed and roll the cake into a ball.Then flour the entire cake liberally and put into the mooncake mold. Press firmly down. Turn the mold over and rap it to loosen the cake.
Bake the cakes in a pre-heated 350° F oven for 15 minutes. Take the cakes out and brush them with the egg wash. Return to the oven for another 10 minutes. Cool down completely and store in an airtight container. The mooncakes remain fresh unrefrigerated for about two weeks.