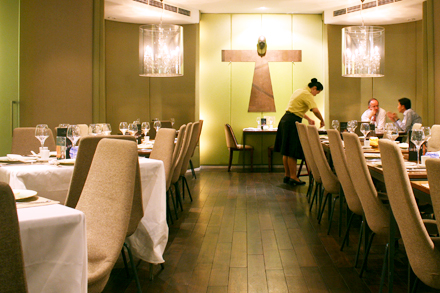 In the heart of the Chinatown area of Singapore was an old faded hotel and restaurant known as the Majestic. I remember the building being one of those relics from the 1930's unkempt but with lots of potential. Our family used to go to the restaurant for good inexpensive Chinese food but certainly not a gourmet experience by any measure. In 2006 the hotel underwent a complete transformation into an incredibly stylish establishment with an equally modern restaurant. Decorated with custom designed furniture, chandeliers from the Mooi Weer Collection and sculpture by Cai Zhi Song, the restaurant is a modern Chinese art collector's dream. The food at the restaurant reflects this environment and was created by the modern Chinese master chef Yong Bing Ngen whom I had the opportunity to chat with last week. The restaurant has received numerous accolades since its opening in January 2006. In conjunction with the Foodbuzz 24, 24, 24 event I've arranged a dinner at the Majestic Restaurant.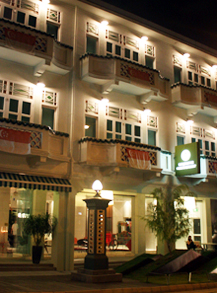 Unlike most Chinese restaurants in America, where the food is predominantly prepared in traditional style, many chefs in Asia have been experimenting with exciting new interpretations of Chinese food. It is not fusion cooking, but rather Chinese food updated and executed lovingly with new ingredients and techniques while respecting their integrity. When I asked Chef Yong to plan the menu for us I requested that he include some new Chinese dishes as well as some of his specialties so we could fully appreciate the range of his talent.
A Modern Chinese Dinner

Majestic Restaurant
Singapore
Saturday, August 29th, 2009
—
A Combination of Crispy Wasabi Prawn and
Peking Duck Skin over Pan-Seared Foie Gras
東瀛芥末蝦拼鵝肝片皮鴨
—
Shark's Bone Soup with Fish Maw and White Cabbage
花膠菜膽鯊魚骨湯
—
Soon Hock Steamed with Dried Leaf Mustard
梅菜蒸荀殼
—
Braised Bai Ling Mushroom with Homemade Bean Curd
白灵菇伴豆腐
—
Stewed Noodles with Baby Abalones and Crab Roe
小小鮑魚燜麵
—
Crispy Durian Ice-Cream
冰火榴蓮
Assorted Summer Ice Cream (Vanilla, Jackfruit and Milo)
夏日冰淇淋 (香草/菠蘿蜜/Milo)
Chilled Mango Puree with Sago and Pomelo
楊枝甘露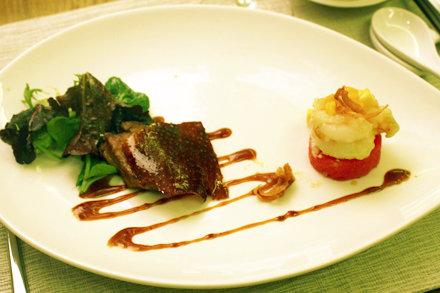 True to his promise Chef Yong wowed us with his first course: a plate consisting of a combination of Crispy Wasabi Prawn and Peking Duck Skin over Pan-Seared Foie Gras. My first reaction was of a cautious alarm by the fatty combination of foie gras and duck skin. But all concerns disappeared after sampling a bite. The duck fat from the skin had rendered to the point that only the crisp skin remained. Pairing that with the perfectly seared foie gras was absolutely divine. The wasabi prawn provided a contrast by offering a cool crisp seafood counter point. The prawn was set on top of a piece of watermelon that was refreshingly welcome.
The second course was a Shark's Bone Soup, a milky and slightly gelatinous soup that was full of character. Shark's bone soup is a classic Chinese preparation often made as an herbal concoction with heavy medicinal overtones. Chef Yong interpreted this soup with white cabbage and fish maw making it lighter but no less flavorful.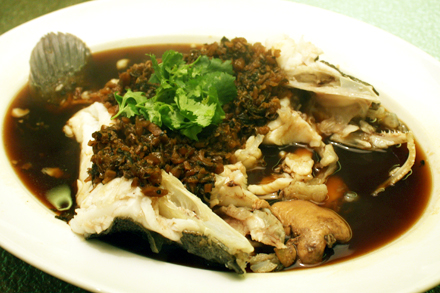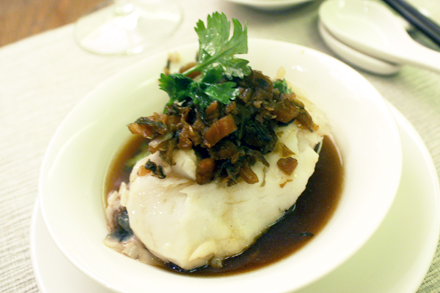 The next course was a Soon Hock Steamed with Dried Leaf Mustard. Soon hock (荀殼) is a fresh water fish with delicate flesh most often found in Southern China. In this dish Chef Yong displayed the influence of his Hakka roots by adding the dried leaf mustard. Dried preserved mustard, or Meigan Cai (梅乾菜), is a classic Hakka and Teochew ingredient and is very often used in stews but can also be used in steamed dishes. Here the soon hock was split into halves from the belly with center bones removed then steamed with the pre-cooked preserved mustard. The flavor of the mustard seeped into the fish without overpowering it creating a perfect balance.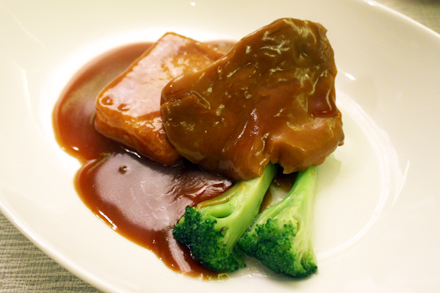 For the vegetarian course Braised Bai Ling Mushroom with Homemade Bean Curd was served. Bai ling mushrooms look like giant oyster mushrooms and has a texture that resembles tender abalone. But the star of this dish was the homemade bean curd. It was perfectly pressed to a soft yet solid texture. It was then deep-fried to create a brown crust that softened in the braising liquid. The dish was served with a couple of broccoli florets rounding out the vegetarian theme. All the guests were extremely impressed by the wonderful texture of the tofu making this one of the most memorable dishes of the evening.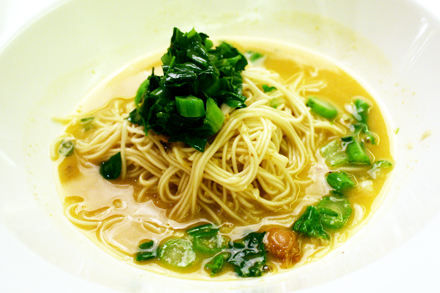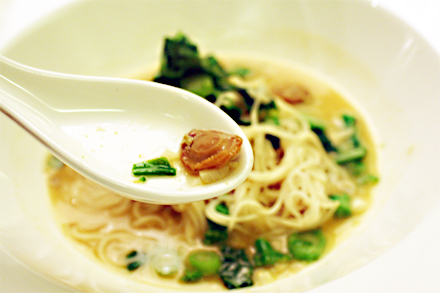 The last savory dish was Stewed Noodles with Baby Abalones and Crab Roe. Made from angel hair noodles and tiny little baby abalones the dish came out looking regal and extravagant. I must confess I'd never seen such small abalones before. Baby abalones are relatively new as an ingredient. They have only become available with the advent of abalone farming. With the flavorful crab roe sauce and tender little abalones this would have been the most decadent way to complete the meal. But wait, there was dessert to come.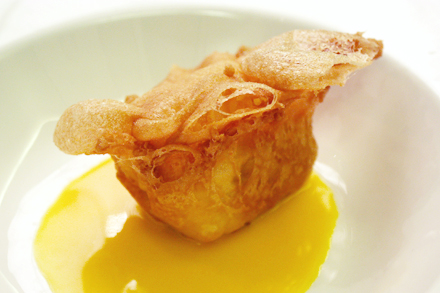 Chinese desserts are not known for being very appealing. So most of Chef Yong's offerings are based on western dessert tradition. Here again he puts Chinese twists on our ideas of desserts. He offered us a Crispy Durian Ice Cream that is a clever adaptation of meringue covered fried ice cream. Durian is a powerfully flavored fruit. The ice cream was wrapped in a wonton skin and battered before being fried until crisp. The result was deliciously aromatic durian ice cream with a crunch.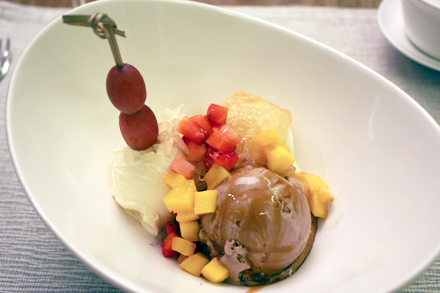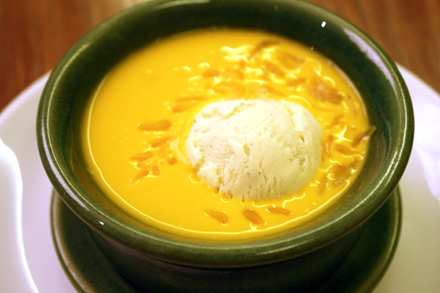 Not all in our party were willing to eat durian, so Chef Yong offered them tropical flavored ice creams and sorbets. In one case the ice cream included vanilla, jackfruit and Milo flavors. Milo is a malted chocolate drink originally developed in Australia in the 1930's and had since become popular in Asia. Milo ice cream was new to me, and after sampling a taste I wondered if I would not have been more in love with Milo growing up if this version was available. The mango sorbet dessert was presented in a mango soup with sago and pomelo and looked absolutely gorgeous. But alas I was too full to even try a bite.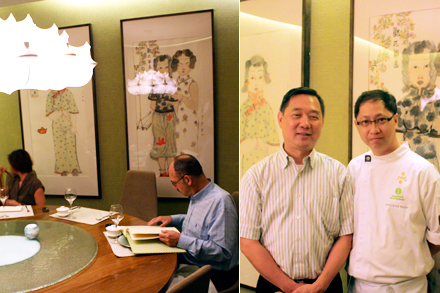 After sampling Chef Yong's modern Chinese cooking at the Majestic Restaurant I have a better appreciation of the direction young chefs are taking Chinese food in Asia. I think their efforts are successful because they have a deep understanding of the roots and proper techniques of Chinese cooking. North American chefs who try to modernize Chinese cooking by fusing it with Western cooking might be more successful if they could learn to understand Chinese cooking better. Then the same excitement for modern Chinese food that is alive in Asia could be transmitted to America.