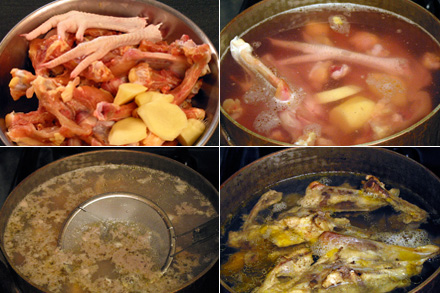 A month after I started my blog Bev Sansom posted a comment wanting to know how Asian stocks are made. I was pleased to know that readers like Bev are interested in proper cooking techniques.
I am a great believer in mastering techniques, be it Western or Asian cooking. Chinese cooking techniques are often misunderstood, and rarely presented with thorough research and clear instructions. So when I started to put together a post for stock making I consulted Chinese cooking sources such as textbooks from professional cooking schools in China and Chinese language cookbooks. What started out as a quick study of stock making, turned into a quest for complete understanding of this very sophisticated aspect of Chinese cooking. But fear not! I've simplified and condensed the different techniques for you.
Making stock is one of the most fundamental and important techniques in any cuisine. In Chinese cuisine the most important types of stock can be divided into single meat, mixed meat and vegetarian. Single meat stock is made from one type of meat such as chicken, pork, duck, or fish. Mixed meat stock is commonly made from combination of fresh meats plus cured meat, such as ham. And finally vegetarian stock is made from soy, mushroom and other aromatic root vegetables such as radishes. The selection of ingredients for Chinese stock often depends on how it complements the ingredients in the final dish. For example, chicken stock is used for enhancing very delicate seafood dishes such as shark's fin and sea cucumber, a mixed meat stock is used for a winter melon soup, and a fish stock is used for a fish stew.
Each of the three types of stock can be further classified as clear or white depending on the level of heat used during preparation. When the stock is prepared on medium heat where the liquid is boiling throughout the cooking time the resultant stock is creamy white in color. In Chinese this stock is called white stock (白湯). On the other hand a clear stock (清湯) can be made by cooking the liquid on very low heat to gently simmer the stock.
The ultimate type of Chinese stock however is known as supreme stock (上湯). This stock is commonly used for such luxurious delicacies as braised abalone and braised shark's fin. The method for making supreme stock is to add chopped meat into already clarified clear stock and further simmer on low heat. This supreme stock is so full of flavor it's like adding MSG to a dish when used, but naturally.
Similar to Western stock making a common set of aromatics are added into the stock. Instead of the trinity of celery, carrots and onions in Western cooking, the Chinese stock requires ginger, scallion and Shaoxing cooking wine. A few English language sources suggested the use of garlic in the stock as well. Personally I do not recommend this practice because the garlic flavor will dominate the resulted stock. Garlic should only be added to the final dish to impart its flavor.
Now I'm ready to show you how to make clear stock (清湯). For other types of stock I will publish in future posts.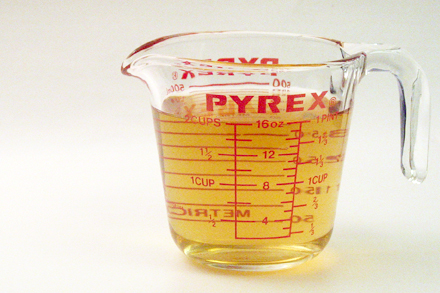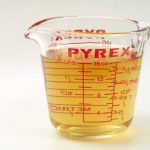 Clear Stock (清湯)
Clear Stock can be made from many different kinds of bone. Use fresh uncooked chicken, pork, beef or lamb bones. The method and aromatics are the same.
Print Recipe
Ingredients
2

lbs.

chicken bones

pork bones, beef bones or lamb bones

1

piece

fresh ginger root

about 2 inches long sliced into thick pieces

4

scallions

cut into 2-inch length pieces

1

cup

Shaoxing cooking wine (紹興料酒)

8

cups

water
Instructions
Always start with cold water when making clear stock. Put all the ingredients in a large stockpot over high heat until the water starts to boil. Immediately reduce the heat to low so the liquid is just barely simmering. Skim off the scum that forms on top of the liquid. Continue until there is no more scum. Simmer covered for about three hours.

The stock will become very clear at the end. Use cooking tongs to remove the solid ingredients. Then strain the stock through a cheesecloth or very fine sieve. You can now use this stock for any dish that calls for a clear stock.