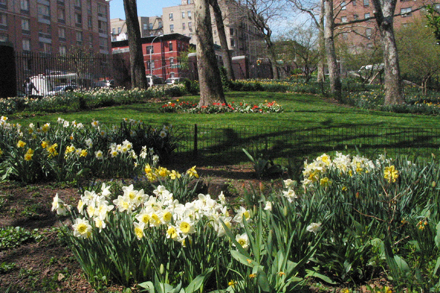 Gosh, what a jumbled title. Yes, I will tell you about all of them.

Spring arrives in Harlem. I step out of my apartment building today into a glorious spring day. The daffodils are in full bloom across the street in Jackie Robinson Park. They blanket the slope going up to Edgecombe Avenue from Bradhurst Avenue along 145th Street. What was once a crime-ridden, decaying neighborhood of Harlem has transformed itself into a culturally diverse and exciting new place to live. I feel very fortunate to be a part of this new renaissance.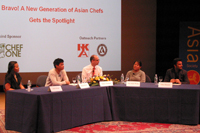 The Asia Society is presenting an incredible panel discussion series on Asian food at their New York headquarter. I've been to two of them and enjoyed them both tremendously. I loved the candid and enlightening discussions with fun and knowledgeable people. In the session with Asian chefs on television I learned many aspects of being a television chef. In the more intimate discussion with Fuchsia Dunlop and Jennifer 8. Lee I learned about their passionate personal quest to learn about Chinese food and cooking in China. Look up the society's event listing and for those who live near New York you may want to attend. The next one is on May 6th about the food from the minority regions of China.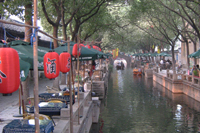 SH is an English language hip weekly magazine published in Shanghai offering local culture and events information for the expat community. Last week an article about Huaiyang cuisine written by Chris St. Cavish was published. Chris interviewed me for my opinions on Chinese regional cuisines. I am delighted to tell you that he quoted me extensively in the article. You can read the article if you're interested.

Last but not least, I started a Page on Facebook for Red Cook. I am posting my personal activities connected to Red Cook on this Page. You'll find out events I'm attending, see more pictures I've taken, and read additional discussions there. So if you're a Facebook member then become a fan. If you're not a member you can still see the Page. Better yet, why not join Facebook.