Our good friend CK took us to the Chinatown section of Kuala Lumpur during our tour of Malaysia in August. Walking through a little alleyway we entered a small bustling wet market. These markets, still commonplace in Asia, are collections of vendors hawking multitudes of produce, seafood, poultry, meat and dry goods. Beyond the market there was an area full of hawker stalls selling prepared food. Weary shoppers could enjoy a snack or a hearty meal there. In among the stalls was CK's favorite vendor selling yong tau foo. He still remembers skipping class to sneak a snack there. Passionate fans of yong tau foo lavish devotion on their favorite vendors for good reasons. Many vendors have been in the business for generations and have developed their very own special recipes. But if these recipes have been handed down through generations, why then is the yong tau foo we know of in Malaysia and Singapore so different from the traditional Hakka yong tau foo served in China or Hong Kong?
Fun fact:
Yong tau foo is known as niang dou fu (釀豆腐) in Mandarin Chinese. In the Hakka dialect yong (釀 niang in Mandarin) means "to insert" or" to stuff" but the standard meaning for that character is "to ferment." This often leads to confusion by many Chinese not familiar with the dish thinking that it is a fermented tofu dish.
Yong tau foo, as it is now served in Malaysia and Singapore, is a dish made with small pieces of tofu products and vegetables stuffed with fish paste. Soy products such as plain tofu, deep-fried tofu, tofu puff or tofu skin are often used, and vegetables such as bitter melon, eggplant, chili and okra are common choices. These stuffed tofu and vegetable pieces are served either plain, with a soup on the side, or covered in clear seafood broth or coconut curry gravy. Noodles are sometime added to make the dish into a complete meal.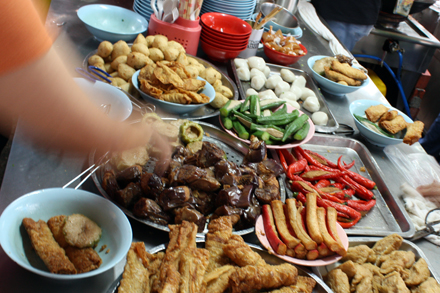 The traditional Mainland Chinese Hakka version, however, is not stuffed with fish paste. My first recollection of yong tau foo was of velvety tofu, stuffed with pork and shrimp filling, steamed and served with a fermented black bean sauce. That was the dish I remembered our cook prepared at home, and that is also the version I now find in dim sum restaurants. The fish paste version I did not discover until I was in high school during the 1960's at hawker centers in Singapore. It didn't occur to me then to wonder why the stuffing was different.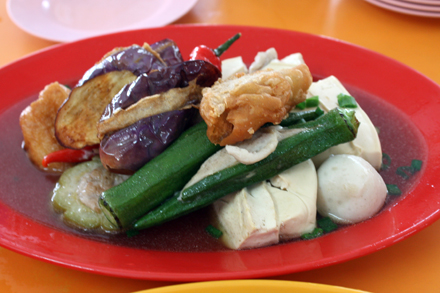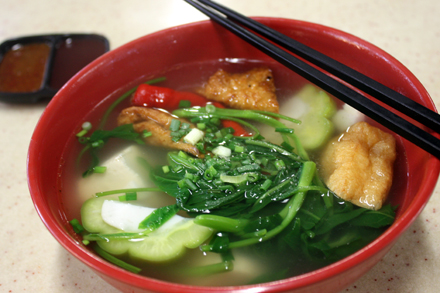 Recently I read an entry on yong tau foo in Wikipedia, which suggest that the dish was introduced to Malaysia in the 1960's by a restaurant known as "Chew Kuan." Unfortunately neither the source of this information, nor the location of the restaurant was cited. I question the validity of this assertion since yong tau foo was already entrenched among hawker centers in Singapore by mid 1960's, albeit stuffed with fish paste. I would not, however, be surprised if the fish paste yong tau foo did originate from the Ampang district of Kuala Lumpur. The area is home to some of the best yong tau foo restaurants in the region. We visited one of them by the name of Restoran Orchard View Yong Tau Foo during our August trip.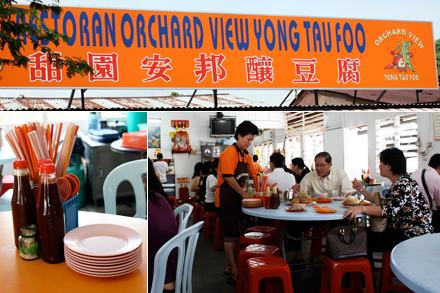 So why did the traditional pork and seafood stuffing become fish paste stuffing? I consulted with my friend Scott Barton, who is a chef and graduate student of culinary study in New York University. He suggested that the Muslim culture, which dominates Malaysia, may have something to do with it. Indeed after further reading on this subject online I am leaning towards his theory that this modification was probably made necessary for marketing towards the large Muslim population in Malaysia, who are forbidden from eating pork.
I doubt I'll win a Nobel Prize for solving the mystery of how traditional Hakka yong tau foo evolved into the Malaysian version. But I can show you how to make both varieties at home. You can make the fish paste version by simply stuffing tofu products or vegetables with my fish paste recipe. For the traditional version follow the recipe below and you'll understand why the Hakka ancestors of Chinese Malaysian felt compelled to share this dish with their Muslim neighbors.
Hakka Yong Tau Foo (客家釀豆腐)

Preparation time: 20 minutes
Slow cooking time: 20 minutes

1 lb. firm tofu
2 cups vegetable oil for frying

Stuffing

1/4 lb. ground pork
1/4 lb. raw shrimp (finely minced)
1/3 cup rehydrated and finely minced dried shiitake mushrooms
1/4 teaspoon salt
A pinch of ground white pepper
1 teaspoon cornstarch

Sauce

1/2 teaspoon minced garlic
1 teaspoon fermented black beans (coarsely chopped)
1/4 teaspoon salt
1/4 cup Shaoxing cooking wine (紹興料酒)
1/4 cup chicken stock
1 teaspoon cornstarch
1/2 teaspoon chopped red chili (optional)

Cut up the tofu into about twelve equal pieces one half inch thick. Put the pieces on a paper towel to soak up excess moisture. Mix together all the stuffing ingredients in a bowl and divide into twelve portions. Hold a piece of the tofu with the flat side in the palm of your hand. Use a paring knife and make a slit in the middle without slicing through to the bottom. Then insert a portion of the meat stuffing into the slit. Stuff as much of the meat as you can into the tofu and push the rest down flat on top of the tofu. Do this for each of the tofu pieces.
In a wok heat the vegetable oil until it begins to smoke. Fry the stuffed tofu with the meat side up on medium heat until it just begins to brown, about eight to ten minutes. Flip the tofu pieces over and continue to fry for another three to five minutes. Take the pieces out and put them on a dry paper towel to absorb the oil.
Drain all the vegetable oil but one tablespoonful into a heat resistant bowl. Return the wok to the stove on medium heat. Add the minced garlic and stir-fry for about one minute. Then add the fermented black beans, Shaoxing cooking wine, salt, chicken stock and chili if desired. Bring the liquid to boil and mix thoroughly. Then thicken the sauce with the cornstarch pre-mixed into slurry with about two tablespoons of water. Turn the heat down to low and put the tofu pieces back into the wok. Continue to cook the tofu pieces in the sauce for about two minutes. Plate the tofu pieces and pour the sauce over them. Garnish the dish with chopped scallion and cilantro.