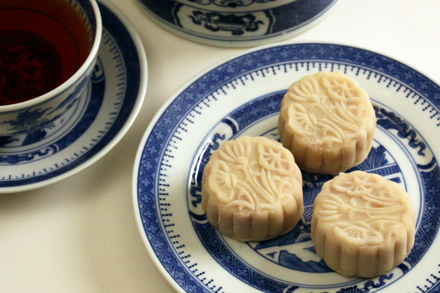 I walked into the K-Mart store near Penn Station in New York last week and discovered to my horror that the Christmas section is already fully stocked with artificial Christmas trees, holiday decorations and ribbons. I had to check the date on my New York Times to make sure I had not completely missed Columbus Day, Halloween and Thanksgiving. This senseless commercialization sent shivers up my spine.
Just like Christmas in America and the West, Asian merchants have learned the art of commercializing holidays. I was rather surprised, though not completely unexpectedly, to find mooncakes being marketed all over Asia as I traveled in August even though Mid-Autumn Moon Festival (中秋節) is not until October 3rd. From Kuala Lumpur to Hong Kong and Singapore to Shanghai, neighborhood bakeries as well as multi-national food chains were touting their specialty mooncakes in advertisements as well as by shelf talkers in their stores.
With the pressure to commercialize the Moon Festival comes the need to produce exotic and innovative mooncake products. I can still remember when buying mooncakes was simply to choose between single or double yolk lotus seeds paste filling cakes. Or very rarely more adventurous shoppers might find a few other types of mooncakes filled with bean paste or sesame paste. But walk about the shopping malls on Orchard Road in Singapore now and you are confronted with an infinite variety of mooncakes for sale.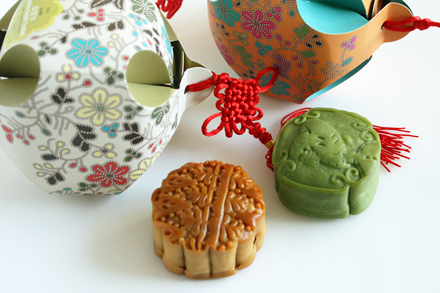 In Kuala Lumpur the Purple Cane Tea Restaurant created a full line of tea flavored mooncakes with varieties such as Pu-er lotus paste tea mooncake and green tea moon cake with white lotus paste. They are sold in packages of little batik-patterned paper lanterns. In Shanghai Häagen-Dazs sells ice cream mooncakes with milk, dark or white chocolate shells, and Starbucks offers gift boxes of familiar coffee flavors such as hazelnut, chocolate, Baileys and chocolate hazelnut. In Singapore the legendary Raffles Hotel packages tins of mini snow-skin mooncakes with champagne truffle and ganache filling.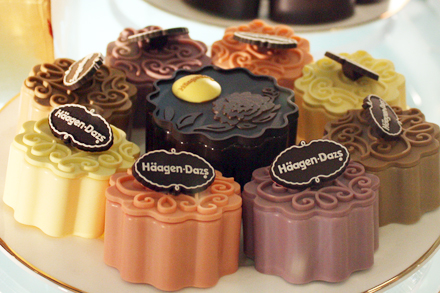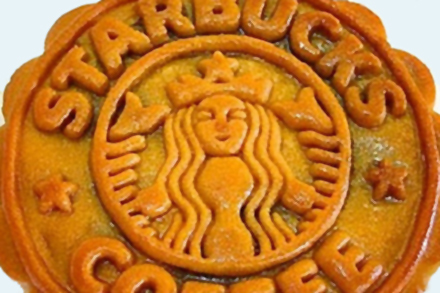 But nothing beats the creativity of a Hong Kong lifestyle merchant GOD. Last year they started marketing a line of "moon" cakes in the shape of four buttocks at various stages of exposure. You may already know that the Moon Festival is celebrated on the 15th day of the 8th month of the Chinese lunar calendar. But you may not know that "15th day of 8th Month" also means the buttocks in the Cantonese dialect. Playing on a multi-lingual pun GOD created an irresistible concept. The "moon" cakes were so popular that this year they've expanded the line to eight designs.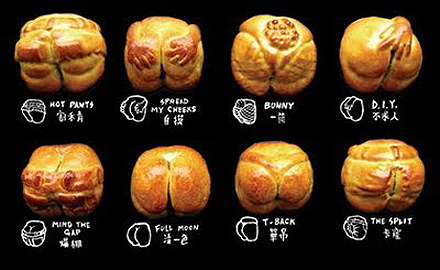 In 1989 the Taipan bakery in Hong Kong introduced mooncakes made with a snowy white soft wrapper and filled with different fruit flavor pastes. The mooncakes were delicate with white translucent wrappers that mysteriously displayed a hint of color from the filling. Not only were they beautiful they were also delicious. They called their new creation "snow-skin" mooncakes (冰皮月餅). These cakes were such a sensation other bakeries quickly followed suit and introduced their own varieties. These mooncakes have now spread beyond Hong Kong and are available everywhere in Asia.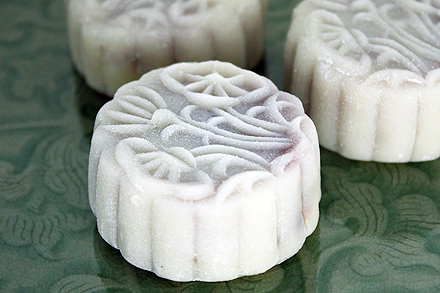 The snow-skin mooncake wrapper is made from glutinous rice flour just like mochi, but with regular rice flour and wheat starch added to provide a firm body. The stiffer dough makes it possible to maintain the molded pattern and shape of the cake. I first tasted snow-skin mooncakes a few years ago in Shanghai and fell in love with them. I've since wondered if I could make them at home. This year I researched and successfully experimented with a few recipes. So here is my recipe for snow-skin mooncake with cherry almond filling. As much as I dislike the commercialization of the Moon Festival, I am actually quite pleased to have found innovations in modern mooncake making.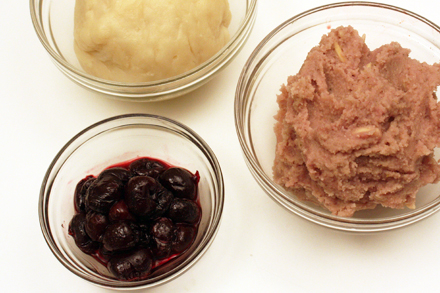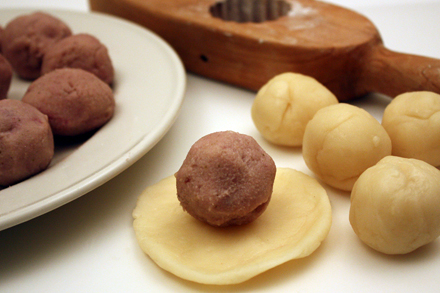 Snow-Skin Mooncake with Cherry Almond Filling (櫻桃杏仁冰皮月餅)

Preparation time: 2 hours
Slow cooking time: 1 hour 30 minutes

Wrapper

1 cup glutinous rice flour (糯米粉)
1 cup rice flour (粘米粉)
1/2 cup wheat starch (澄粉)
1/2 cup sugar
1 cup milk
3 tablespoons sweetened condensed milk
4 tablespoons vegetable oil

Cherry Almond Filling

6 ozs. dried lotus seeds
3 ozs. almond paste
1 cup frozen cherries
1/2 cup sugar
2 tablespoons vegetable oil
1/4 cup slivered almonds

Other Ingredient

1/2 cup cornstarch for dusting

Soak the lotus seeds in about three cups of water for at least four hours. Drain completely and put them in a medium saucepan. Add three cups of fresh water and boil on medium heat for about 30 minutes.
Make a cherry syrup by combining the frozen cherries and one half cup of sugar using a double boiler. Heat the mixture until the sugar is completely dissolved. Strain the cherries and collect the syrup. Set both aside.
In a food processor combine the cooked lotus seeds, the cherry syrup, almond paste and vegetable oil. Process the ingredients until they become a smooth paste. Remove from the food processor and add the slivered almonds to the paste.
Thoroughly combine all the ingredients for the wrapper in a medium stainless steel bowl. It should become a very thick smooth batter. Steam the batter for about 45 minutes or until cooked. Use a spoon to scrape some of the cooked dough aside to make sure it is cooked through. Remove the dough from the steamer and set aside to cool.
First divide the almond filling paste into portions of about two tablespoons each. Put one cherry in each portion of the paste and roll into a ball. Keeping your hands wet with some clean water will keep the paste from sticking to your fingers. Then divide the wrapper dough into about two tablespoons portions as well. Flatten the wrapper dough into circle of about 5-inch in diameter and put the filling in the center. Cover the filling with the wrapper dough to form a round ball. Dusting your hands with cornstarch will keep the wrapper from sticking to your fingers in this step.
For this version of mini mooncake I like to use the 2-inch diameter mold. Dust the mooncake mold with a thin layer of cornstarch using a pastry brush. Press the ball of cake into the mold. Flip the mold over and gently rap the mold. The cake should loosen and unmold easily. Use a pastry brush to dust off excess cornstarch from the cake. Refrigerate the mooncakes for storage. Serve with a strong Chinese tea.