So it was on this July 4th weekend my partner, Warren, and I along with some of our neighbors went to the beach. Our wonderful friend Chick invited all of us to spend the weekend with him and his family at their beach house, which is in a small coastal hamlet of Slaughter Beach at the mouth of the Delaware River. Kim, the Yummy Mummy, and her family were part of the group. If you've been following her blog you'd know about the "horrors" that happened during the weekend. But don't believe all of them!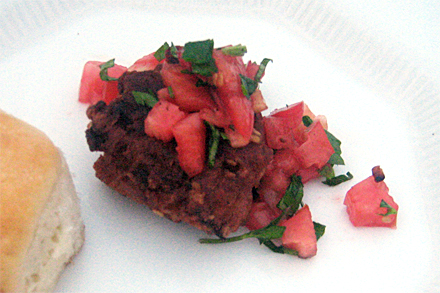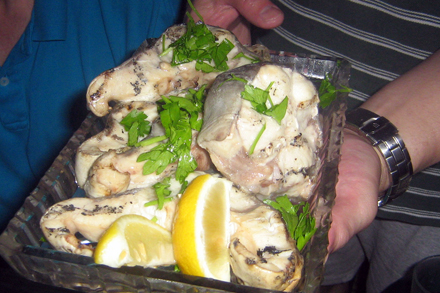 OK, we did find whelks. Although we called them conch all weekend long. A mistake. I made conch… oops! whelk fritters. We did find a sand shark. I did make grilled shark steaks. But what's so unusual about that? They were delicious.
Warren was raised on the ocean near Cape Cod and as a child he used to gather up the ocean's bounty and have his mother cook whatever he managed to find. He still scavenges whenever we are at the beach, but now I get to cook them. It was with high expectations that I hope Warren would find something interesting from the ocean.
I was not disappointed. After only a few minutes wading around in the shallows at low tide he came back with a few whelks. According to Wikipedia they are sometimes called "sea snails" or "scungilli" in Italian-American cooking term.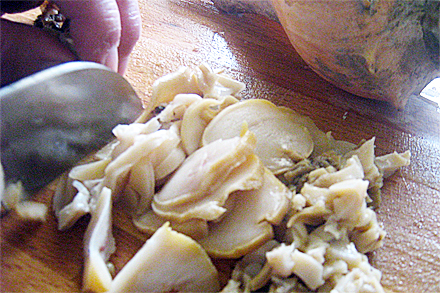 It may come as a shock to you that I do in fact make Western dishes. But I do. There was a package of Bisquick pancake mix in the kitchen but no flour. So I improvised and used it to make the whelk fritters. I used about 1 1/2 cups of the pancake mix, and added two eggs, 1/3 cup of lager beer, 1/4 cup minced onion, 2 tablespoons chopped parsley, plus the chopped meat from three whelks (about 1/2 cups). I mixed the combined ingredients well and seasoned with salt and pepper to taste. I then fried heaping tablespoonfuls of the batter in a frying pan on medium heat with about 1/2 inch deep of olive oil augmented by a few tablespoons of butter. I cooked it until golden brown and drained the grease on paper towels. I served them with chopped tomatoes that were mixed with lemon juice and pinch of salt, and garnished the dish with chopped parsley. It was a hit!
Since Red Cook really is about Chinese cooking, I will include a Chinese whelk recipe. This recipe is a stir-fried whelk with Chinese wine lees. Wine lees is the solid residue from wine making. It is a very popular flavoring ingredient in Southern China, especially in the Chaozhou and Fujian regions. So here is how to make it.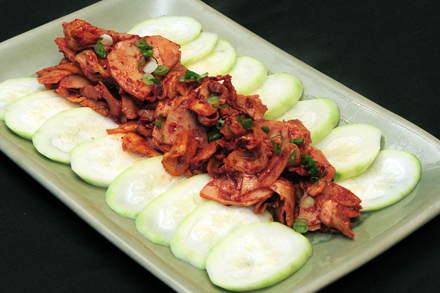 Stir-Fried Whelk with Chinese Wine Lees (淡糟香螺片)

Preparation time: 20 minutes
Rapid cooking time: 15 minutes

1 cup whelks blanched and thinly sliced
1 cup bamboo shoots thinly sliced
2 tablespoons vegetable oil
1 tablespoon minced garlic
1 tablespoon minced ginger
2 tablespoons Chinese wine lees (紅糟)
2 tablespoons Shaoxing cooking wine (紹興料酒)
1/2 teaspoon salt
1/2 teaspoon ground white pepper
thinly sliced scallion for garnish

You can buy whelk in the shell or already taken out. To get the live mollusk out of the shell you can break it, or put the shell in boiling water for about three minutes, then pull the meat out. Only use the firm white meat.
Heat vegetable oil in the wok at high heat until just beginning to smoke. Add the whelk and bamboo shoot slices. Stir-fry for about three minutes, then remove from the wok and set aside. Add the garlic and ginger into the oil that remains in the wok and stir-fry for about two minutes. Add the rest of the ingredients except for the sliced scallions, and put the whelks and bamboo shoots back into the wok. Continue to stir-fry for another three minutes or until all the liquid is evaporated. Plate and garnish with sliced scallions.
It is common to line the serving dish with a layer of steamed green vegetable. You can use baby bok choy or sliced green luffa.