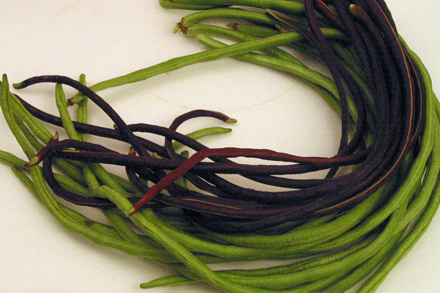 A few days ago I received a bagful of freshly picked long beans (豇豆) from a friend's rooftop garden. They were bi-color, crisp and just absolutely gorgeous. Legumes are at their peak during late summer, and I was once again reminded of how we've lost the custom of eating locally grown food in season.
It's not news that eating locally is currently a rage among the environmentally conscious foodies. There are of course many compelling reasons for doing so, and there is no lack of Web sites dispensing advice to people on how to eat locally. One such site that I enjoy is a group blog called Eat Local Challenge. Contributors to the site offer suggestions and share experiences for eating locally. Many articles on the site discuss difficulties in making choices on when and what to buy locally. It just shows how hard it is for consumers to make this switch. Given our modern hectic life and closely watched budget, we often opt for convenience and the low cost resulted from the global economy in spite of the environmental impact. I am often guilty of it.
Long distance food transportation is often cited as the culprit for contributing to global carbon emissions, but it is only part of the equation. Scientists also suggested that certain production practices increase carbon footprints as described in a New York Times article this spring. For example growing hothouse produce in the winter requires much more energy than transporting them from areas with opposite growing season. Refrigeration storage for certain products, such as apple, to be sold out of season also requires unnecessary energy. Therefore simply choosing local products is not sufficient to reduce carbon emissions. One must consider the entire production and delivery system.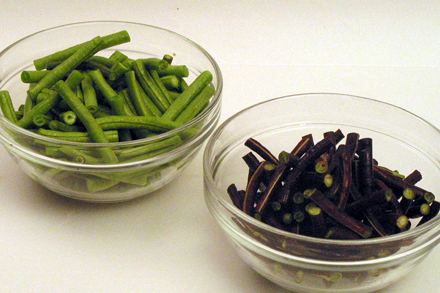 Eating products out of season has become common because we, the consumers, demand it and marketers fulfill it. Consumers are now so accustomed to ready availability of out of season products that retailers find it difficult to compete without offering them. This cycle can only be broken if consumers return to seasonal food consumption pattern. This I think is what we need to practice if we were to effect any significant change to the environmental damage.
As I walked home with the beans in my hand, I felt I made a step, however small, in my effort to help break the cycle. My friend has grown two varieties of long beans: a regular green type and a less common purple one. They are great when combined in a dish as they create a beautiful color combination.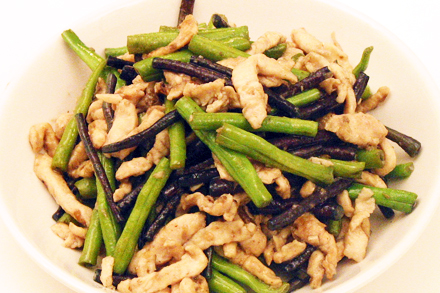 Stir-Fried Long Beans with Chicken (豇豆炒雞絲)

Preparation time: 15 minutes
Rapid cooking time: 15 minutes

2 cups (12 oz.) long beans (豇豆) cut into 2-inch length
1/2 lb. chicken breast
2 tablespoons dried shrimps (蝦米) rehydrated in 1/4 cup water
1 tablespoon minced garlic
2 tablespoon Shaoxing cooking wine (紹興料酒)
1/4 cup chicken stock or water
2 tablespoons vegetable oil
1/2 teaspoon salt

Chicken Marinade

1/2 teaspoon salt
1/2 teaspoon ground white pepper
1 tablespoon vegetable oil
1 tablespoon cornstarch

Cut the chicken breast into long 1/4 inch thick strands. Marinade the chicken with the salt, white pepper, cornstarch and oil for about 15 minutes. Heat two tablespoons of vegetable oil in a wok on high heat until it begins to smoke. Add the chicken to the wok and stir-fry for about three minutes. The chicken should be cooked on the outside but not cooked through. Scoop the chicken into a bowl and set aside. Be sure to leave about 1 tablespoon of oil in the wok.
Add the long beans along with the wine, water and salt. Reduce heat to medium and cover the wok. Let the vegetable steam for about five minutes then uncover and let the liquid evaporate. When the vegetable is dry add the garlic and rehydrated dried shrimp to the wok and continue to stir-fry for another minute. Then return the chicken to the wok and continue to stir-fry for another minute. Plate and serve.