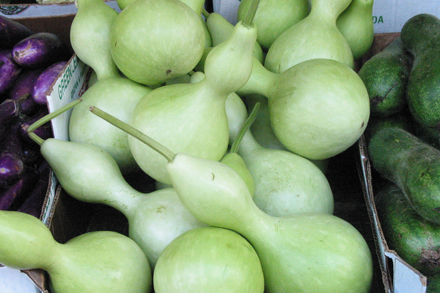 Guess what I found when I was in New York's Chinatown last week. This beautiful looking hulu! I've not seen them before in New York nor anywhere in the U.S. Hulu (葫蘆) is a bottle shaped gourd often seen in Chinese brush paintings. Sages or monks carrying hulu flask are common themes in Chinese art. But these sinuous shaped gourds are also delicious as vegetables.
Mature hulu gourds form rigid and durable shells. When dried and hollowed they make excellent containers. For thousands of years the Chinese used these gourds as bottles to carry water or wine, or as ladles when cut into halves. Hulu bottle decoration is a folk art that is still practiced in many parts of China even now. They are painted with brush and ink, or branded with hot iron. And some artists carve decorations or prosperity symbols on the hulus. Many of these pieces are considered fine artworks. Museums and collectors alike covet them.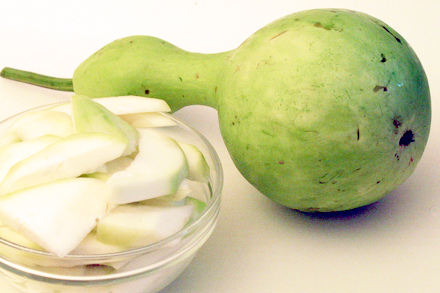 The young tender gourds on the other hand are commonly used as a vegetable. They are tender and have a mild summer squash-like flavor, making them an excellent ingredient to accompany stronger flavored food. Hulu is a very flexible ingredient that can be stir-fried, stewed or used in soups. I often enjoy a simple stir-fry of hulu with a bit of garlic and salt. But a few years ago I was in a Xinjiang restaurant in Shanghai and I tried this stir-fried hulu with a vinegar sauce. I thought the vinegar gave the stir-fry a very nice kick. So today I'm sharing my version of this dish with you.
When selecting hulu make sure to buy one that is green and tender. The skin of the gourds should be crisp but not tough. I usually like to cut the neck of the gourd off first before peeling with a regular potato peeler. It is much easier to peel the two halves separately. (If you're unable to obtain hulu you can use this recipe with summer squashes instead.) The vinegar I like to use for this dish is Chinese white rice vinegar. It has a very nice mild flavor.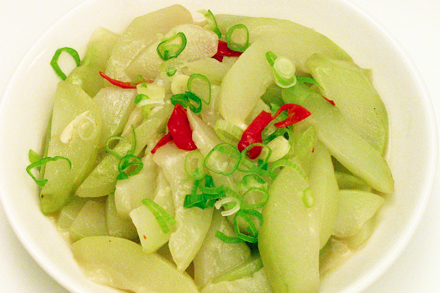 Stir-fried Hulu in Vinegar Sauce (醋溜葫蘆)

Preparation time: 10 minutes
Rapid cooking time: 15 minutes

12 oz. (about 2 cups cutup) hulu gourd (葫蘆)
1 red chili (optional)
2 cloves garlic thinly sliced
1 tablespoon vegetable oil
1/4 cup water (or chicken stock)
1/2 teaspoon salt
1 tablespoon white rice vinegar (白米醋)
1 tablespoon Shaoxing cooking wine (紹興料酒)
1 teaspoon sugar
1 teaspoon cornstarch mixed with about 3 tablespoon of water to make a slurry

Get a medium size hulu of about 1 1/2 pounds. Peel and cut open the round bottom of the gourd. Scoop out the seeds and pith. (The seeds are actually very tender but I like to scoop them out so I can cut up uniform pieces to cook evenly.) Cut the halves further into quarters lengthwise then cut them into slices about 1/4 inch thick.
In a wok heat the vegetable oil on high until just about smoking. Add the garlic and stir-fry for about 30 seconds. Add the hulu slices and water then cover. Turn the heat down and simmer for about 5 minutes. Check the liquid occasionally to make sure the hulu slices don't burn. When the hulu is tender, but still green in color, add the salt, vinegar, cooking wine, sugar and chili if used. Simmer for another one or two minutes. Add the cornstarch slurry and stir-fry until the sauce is thickened. Serve hot garnished with thinly sliced scallion.