My neighbor, Kim, had a revelation the other night while observing me make a stir-fry of blooming chives with tofu. She noticed while I spent a bit of time chopping and preparing the ingredients, it only took me about 10 minutes to finish the dish stir-frying it.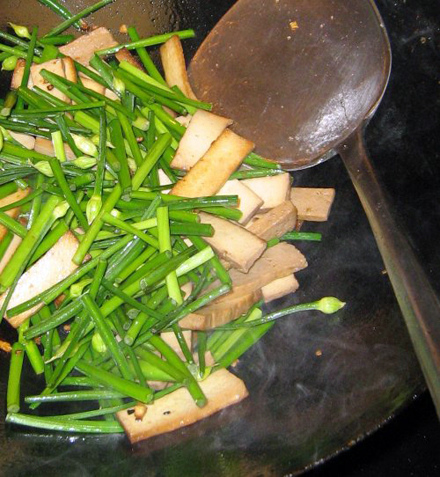 We both discussed how in this case preparation work and final cooking could be separated completely. Kim, who has two little girls, loves the idea of preparing all the ingredients for dinner way ahead. Then when the family is ready she can simply finish the cooking absolutely at the last minute.
I have learned from experience that Chinese cooking can generally be divided into two rather distinct modes of slow and rapid cooking. Slow cooking includes such methods as stewing, braising, boiling and steaming. Rapid cooking consists of stir-frying and deep frying. Of course for professional Chinese cooking these methods are further classified. But perhaps we can save that for later posts.
For now I'd like to help you estimate the time for making the recipes on my blog. I've decided to devise three different time estimates for each recipe: preparation time, slow cooking time and rapid cooking time.
Preparation time includes cutting and chopping of ingredients, plus measuring of any sauces or ready ingredients. I do advise the portioning of ingredients ahead to promote efficiency during final cooking.
Slow cooking time depends on the nature of the recipe. The stewing or braising of meat dish can take hours. The boiling of vegetables can often take less time. However constant attention is not necessary for this cooking time. I will be including a slow cooking time in my recipes whenever necessary.
Rapid cooking time on the other hand requires full concentration for a short period of time. This rapid cooking is more often than not necessary during final step of a recipe.
I am including these time estimates at the beginning of each recipe. I hope these classifications can help you plan your meal preparations. Enjoy!