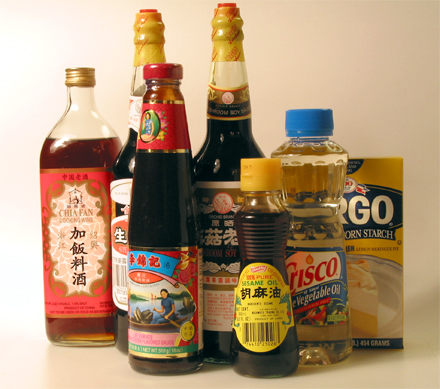 Oil and sauces clockwise from top left: oyster sauce, corn oil, dark soy sauce, light soy sauce and sesame oil
A few of my friends from downtown visited me in my kitchen on a Saturday night a few weeks ago. It was a rather unusual gathering. I was sharing with them some basic Chinese cooking techniques by way of demonstration. More often then not I would simply be cooking to entertain these friends. But on this occasion I had specifically been requested to show them stir-frying technique before we sat down to dinner. As I collected the ingredients and was explaining the different sauces and cooking wine, my neighbor Kim dropped in unannounced to borrow some fresh cilantro for her guacamole. (She is now officially a family member!) In her normal inquisitive manner she proceeded to ask me if there was a basic set of Chinese sauces and ingredients one should assemble as a "starter kit" for Chinese cooking?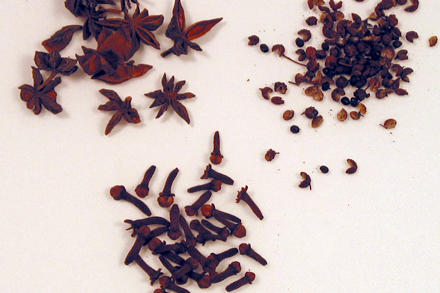 Spices clockwise from top left: star anise, Sichuan pepper and clove
It dawned on me that not everyone is familiar with the basic ingredients of Chinese cooking, much less stocks them in their pantry. So I started putting together a list of the most basic ingredients a Chinese pantry should contain. It was hardly an easy task as there are numerous sauces and spices employed in Chinese cooking. What's more there are regional differences to take into account as well. But I decided to put together a list for the most common items, plus a few extra spices to include some popular regional cooking styles.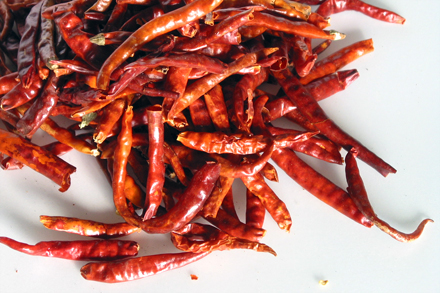 Chinese Red Chili
I spent a long evening moving Post-it stickers, written with ingredients names, back and forth between the "selected" and "unselected" sides of my dining table. So here is the result of my careful, but not quite scientific, analysis.
I decided to divide the ingredients into two groups: oil and sauces, and dried spices. I'm sure some of these ingredients are already in your well-stocked pantry, but I wanted to make sure I gave you a complete list. The other ingredients are not always easily found in regular markets, however all can be purchased from Chinatown markets or Asian mail order outfits.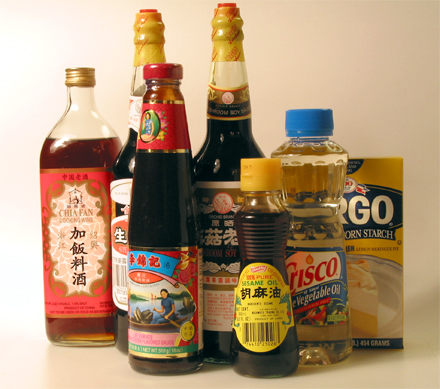 Oil and sauces from left to right: Shaoxing cooking wine, light soy sauce, oyster sauce, dark soy sauce, sesame oil, vegetable oil and cornstarch
Oil and Sauces

Light soy sauce (生抽) This is the common table soy sauce one finds in any Chinese restaurant. Light soy sauce is the initial product from soy sauce making. It is lighter in color and taste, and has a rather dilute consistency. It should not be confused with Japanese soy sauce. Chinese soy sauce has a nuttier flavor and lighter color.
Dark soy sauce (老抽) This soy sauce is the product of aging light soy sauce. It is commonly aged for about two to three months. The aging process produces a thicker consistency and darker color sauce. It also results in a slightly sweet taste.
Shaoxing cooking wine (紹興料酒) Shaoxing wine is a very popular brown rice wine from China. The flavor is reminiscent of dry sherry, which can be used as a substitute. Chinese cooking utilizes this wine just like French cooking uses grape wine: everywhere, all the time.
Sesame oil (麻油) The classic sesame oil is pressed from toasted sesame seeds and has a nutty fragrance. Although most commonly used in cold dishes, it is often used in hot dim sum dishes or snack food.
Oyster sauce (蠔油) Originally made by boiling and cooking oysters until a thick pungent sauce is produced, it is now more commonly made from a combination of oysters with other seafood because of the exorbitant price of oysters.
Vegetable oil (素油) Chinese cooking very often requires high heat over a short period of time. So oil with a higher smoke point is preferable. Soybean, canola, corn or peanut oils are all excellent choices. Olive oil on the other hand is not suitable because of its low smoke point and strong flavor.
Tapioca starch (木薯粉) Starch is regularly used in Chinese cooking to thicken sauces. The traditional starch used in China is made from tapioca but cornstarch works just as well in the American kitchen.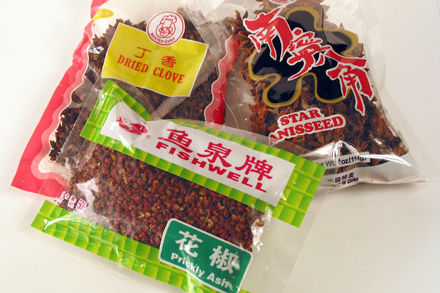 Spices clockwise from top left: clove, star anise and Sichuan pepper
Dried Spices

White pepper (白胡椒粉) Chinese cooking rarely uses black pepper. Finely ground white pepper is preferred.
Star anise (八角) It is commonly used as one of the stewing or braising spices. It is often found in the spice rack of regular markets.
Clove (丁香) Just like star anise, whole clove is used in stewing or braising. It is also readily available in regular markets.
Sichuan pepper (花椒) Also known as flower pepper, it is technically not a pepper. It is the dried fruit of a variety of prickly ash tree widely planted in Asia. It is used extensively in Sichuan cooking, hence the name.
Dried hot chili (幹辣椒) Chili is widely used in Southwestern Chinese cooking from Sichuan, Hunan and Yunnan provinces. Many varieties are available from Chinatown markets. The most commonly used variety, simply known as red chili by the Chinese, is similar to Arbol chili, which can be found in Mexican food section of regular markets.
Shopping at Chinatown markets can be very daunting. Package labels may not be translated very well, and the staff may not speak English well enough to communicate with you. To make grocery shopping a little more fun and a little less frustrating, you can download the "Kian's Chinese Cooking Starter Kit" document. It is bilingual so you will know exactly what you're looking for, and it is in PDF format so the Chinese characters will print properly. Show the list to a store assistant and pray that he or she will be able to find them for you!
Download Kian's Chinese Cooking Starter Kid