It was Chinese New Year's Eve and I was in Chinatown buying last minute supplies for the family gathering. Although I had already braved throngs of holiday shoppers in Chinatown last weekend, I decided I would return to buy fresh seafood and produce on New Year's Eve. I was pleasantly surprised that the shops were not overly crowded. I was expecting to claw my way through the fishmonger and fight for the last fresh DongGu mushroom in the produce markets. Instead I found aisles wide open at the dry goods stores and plenty of supplies at the fishmonger and produce markets. This rather leisurely pace of shopping gave me time to ponder what I had decided to do this year for Chinese New Year celebration: two TEN-COURSE dinners within the span of four days.
A chill ran up my spine. What have I done?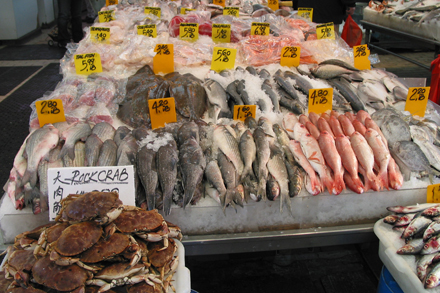 It is customary for Warren and I to celebrate Chinese New Year with a family reunion dinner (年夜飯) on New Year's Eve, which is a tradition practiced all over Asia where Chinese communities exist. For many years we served a full ten-course dinner to the family for this annual ritual. So we were expected to carry on this tradition, lest my family should protest. However we'd added to our family circle a group of wonderful neighbors since we moved into Harlem last May. We wanted to include these neighbors as well. So I decided to host two Chinese New Year dinners, one on New Year's Eve as tradition dictates, and another on Saturday night thereafter for our newfound family.
I was worried in the market that I had bitten off more than I can chew. And my sense of panic grew out of that. But then I realized I had sub-consciously built in safeguard to make the meals go smoothly. My action plan centered on the proper design of the menu. I created a menu taking into account seasonal ingredients and other New Year traditions. Then I considered the serving order of the courses, and finally I considered the timing for finishing each course so I can spend sometime with our guests between the courses.
Here is the final menu I used on Wednesday and will repeat on Saturday.
Chinese New Year Banquet

Wednesday, February 6, 2008
Saturday, February 9, 2008
五彩冷拼盤
Assorted Cold Appetizers

(Smoked Ham Hock, Jellyfish Salad, Drunken Chicken,

Shrimp Salad in Mustard Mayonnaise, Preserved Eggs)

雙冬燜海參
Double Winter Braised Sea Cucumber
蒜香油淋雞
Crispy Fried Chicken in Garlic Sauce
八珍冬瓜湯
Eight Treasures Winter Melon Soup
挾飽紅燒肉
Red Cooked Meat with Steamed Buns
宮保田雞塊
Kung Pao Frogs
芥菜炒蟹肉
Mustard Greens with Crabmeat
清蒸鮮西鲃
Steamed Sea Bass
香腸蛋炒飯
Chinese Sausage Fried Rice
高力豆沙球
Deep Fried Red Bean Paste in Meringue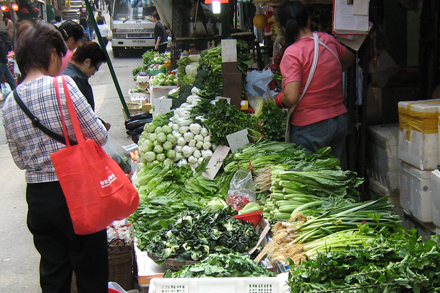 One of the most important considerations in my menu design was the inclusion of traditional dishes for Chinese New Year. Although there are huge variations regionally, the fish course unquestionably is a must. This tradition was based on a Chinese proverb celebrating abundance of surplus every year (年年有餘). The character for surplus is pronounced "yu" which happens to be a homophone for fish. So having fish on New Year's Eve is equivalent to having surplus at the end of the year. Other Chinese New Year food traditions include dumplings in Northern China, and hair like seaweed from Southern China. I decided to only include the fish in my menu so I can be more flexible with other dishes.
To further celebrate "diversity" of regional cuisine I decided not to stick to a singular cuisine for my menu. Chinese society is becoming very mobile and cuisines are being transported to other regions enthusiastically. So I included dishes from Guangdong (Canton), Fujian, Shanghai (or Zhejiang) and Sichuan cuisine.
Next I had to maintain our family tradition of serving Hong Shao Rou (Red Cooked Pork) for Chinese New Year. I must admit this dish is a favorite in my family, and has become my specialty. I often cooked double portions simply to satisfy everyone's craving. Additionally I included Chinese Sausage Fried Rice, in spite of the fact that it is a common daily dish, because Warren and my nieces love this dish.
It was also important for me to balance the type of meat and vegetable dishes in a Chinese banquet. The commonly accepted wisdom is to include poultry, pork or beef, seafood, vegetable and starch (rice or noodle) dishes. I chose one dish from each of the categories plus exotic meat like frogs.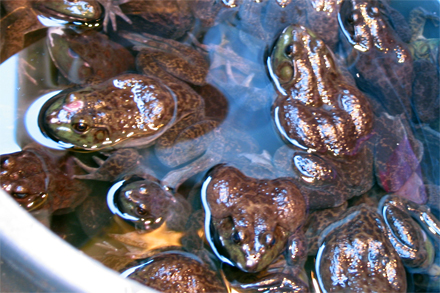 The serving order was my final consideration for a smooth service. I decided on the order based on the plate changes and final cooking time. So a flat plate placed at the beginning for the cold appetizers, sea cucumber and chicken dishes was the first setting. Then a change to soup bowl was made to serve the soup. A clean flat plate was then placed for the pork, and frog dishes, followed by another clean flat plate change for vegetable and fish dishes. The rice dish was served in a rice bowl and finally another clean plate placed for the dessert.
Now tell me if my nervousness was justified? I can report that the Wednesday night dinner went very well and I just have to get through the Saturday night dinner. Wish me luck as I will be blogging that meal. Come back after the weekend to see what happen.