A good friend took us to an elegant Buddhist vegetarian restaurant for dinner in Hong Kong last summer. It was a spectacular meal. Not only was every dish distinctive and delicious, but innovative and sophisticated as well. There was winter melon soup with mixed vegetables, vegetarian soup dumplings, stir-fried tofu skins with seaweed and multigrain steamed rice. But the most memorable dish of all was the salt and pepper crisp-fried enoki mushrooms. When Mel from Gourmet Fury once again asked me to enter the mushrooms challenge of Beet 'n Squash YOU! I decided to recreate this dish with a twist.
Salt and pepper crisp-frying is a common Cantonese preparation. Shrimp, pork ribs, fish and squid are regularly prepared this way. The main ingredient is coated with a light batter flavored with salt and ground black peppers. The twist in my interpretation is to use Sichuan peppercorns and chilies to flavor the dish instead of black pepper. And the spice salt is served on the side instead of incorporated into the batter.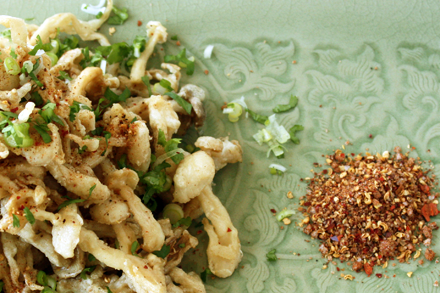 A successful salt and pepper dish should have a crisp thin coat of batter and is slightly spicy. Therefore the batter is key to this dish. In order to create the lightest possible coating for my recipe I consulted my friend Nobu to learn how to make the best Japanese tempura batter.
I learned that classic tempura batter is made from flour, water and salt. What is important is to reduce the amount of gluten as much as possible. So cake flour is recommended. To further reduce the gluten in the mixture I decided to incorporate cornstarch as well. I added whipped egg white to fluff up the batter and to provide extra crispness. Another important tip is to use icy cold water, which supposedly prevents the absorption of excess oil during frying.
For the challenge my approach was to create a simple flavorful dish. Yet I ended up incorporating Japanese and Chinese cooking techniques to produce the best result. So here then is what I consider an "East meets East" fusion creation.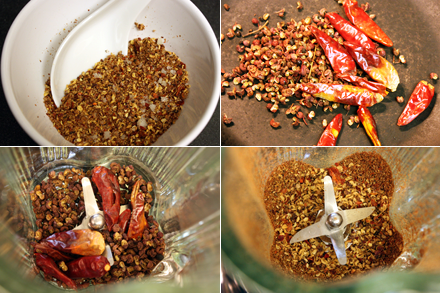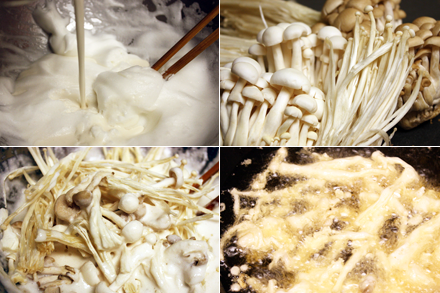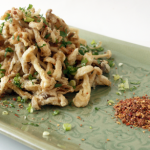 Crisp-Fried Mushrooms with Sichuan Salt (川味椒鹽菰)
Print Recipe
Ingredients
7

ounces

enoki mushrooms (金針菰)

3 1/2

ounces

white beech mushroom (白蟹味菰)

3 1/2

ounces

brown beech mushroom (蟹味菰)

4

cups

vegetable oil

1/2

cup

toasted sesame oil
Batter
1/2

cup

cake flour

2/3

cup

cornstarch

1

cup

water

1

egg white

1/4

teaspoon

salt
Sichuan Spice Salt
2

tablespoons

Sichuan peppercorns

6 or 7

dried red chilies

2

tablespoons

course sea salt
Instructions
Trim off the root part of the mushrooms and separate them as much as you can. Put them in a container and set aside. Do not wash them.

Put the Sichuan peppercorns and dried chilies in a wok. Toast the spices over low heat. Keep tossing the spices around the wok making sure not to burn them. When you start smelling the fragrance from the spices turn the heat off then let cool for a while. When the spices are cool to touch pour them into a blender and pulse a few times until they are pulverized. They don't have to be ground into a fine powder. Pour the spices into a bowl and add the sea salt. Mix well and set aside.

Prepare the batter by first mixing the flour, cornstarch and salt together in a mixing bowl. In a separate bowl whip the egg white into soft peaks and set aside. Now add icy cold water into the flour and cornstarch mixture and blend. Don't worry if the resulting batter is a little lumpy. Pour this batter slowly into the whipped egg white and mix well.

Heat the vegetable and sesame oils together in a wok. The oil should be heated to the point when a drop of the batter sizzles in the oil. Separate the mushrooms into four portions. Put one portion in a small mixing bowl and ladle about one quarter of the batter into it. Cover the mushrooms evenly with the batter and drop them into the hot oil. Fry the mushrooms for about three minutes and turn them over. Continue to fry for another minute. The fried mushrooms should be crisp and slightly yellow but not brown.

Drain the mushrooms on a paper towel and immediately start the next portion of the mushrooms. Work as quickly as possible so you can serve them hot. Sprinkle chopped scallion and cilantro over the mushrooms and serve with the Sichuan spice salt.