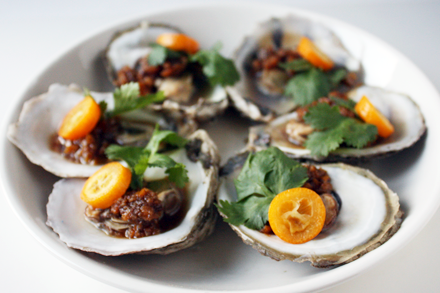 Once the yearend holidays and New Year craziness are over everyone begins to look to Valentine's Day. Lovers are not the only ones wooing their partners. Marketers, the media and even bloggers take this opportunity to court their customers and readers. Chocolate companies package their products in red and white, and the media and blogs are full of advices and suggestions on how to charm your lovers. There are articles on how to make your lady or man happy, and how to celebrate the day as a single person. Not to be outdone I'm also going to give you advice on how to create an impressive dish for that Valentine's Day dinner.
Traditionally aphrodisiacal food items are favored for that obligatory Valentine's Day dinner. But do they really arouse sexual desire? According to the Cambridge World History of Food not all the traditional aphrodisiac ingredients are scientifically determined to actually affect sexual performance. To be sure a few of these food items can provide nutrients that are known to be essential for sexual health. Bananas, for example, are rich in potassium and B vitamins, crucial for production of the sex hormone. But many more are simply considered sexually stimulating because of their physical semblance to genitalia.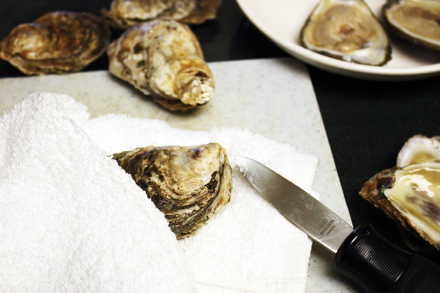 Oysters are one such ingredient. Scientific analysis of oysters confirms that they are nutritious and high in protein. But there is nothing to suggest that oysters can improve sexual desire. Still the oyster's shape, which vaguely resembles the vagina, proves to be too persuasive. For millenniums believers have venerated oysters as a potent aphrodisiac for women.
Regardless of the aphrodisiacal effect of the oysters they are an excellent choice as part of a Valentine's Day dinner. Not only are they nutritious they are delicious. I'd like to introduce you to a simple Chinese steaming preparation. The oysters are first steamed quickly then topped with a citrus flavored sauce made from tangerine peel.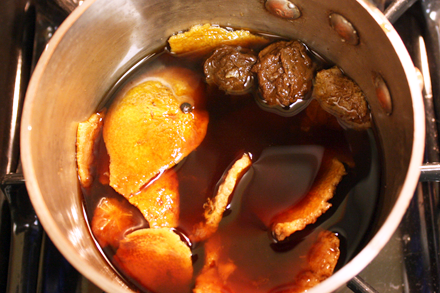 Tangerine peel is an ingredient that is commonly used in southern China. The peel is dried thus intensifying the citrus flavor. This dried peel is often used in cooking or can be candied for snacking. In 2007 pharmaceutical scientists in England isolated a compound from tangerine peel that can kill certain cancer cells in the lab. Thus substantiating claims by Chinese medicinal practitioners of the healing quality of tangerine peel.
Oysters may not truly be an aphrodisiac but serving them with tangerine peel can at least be very healthful. So enjoy a wholesome dinner with your loved one this Valentine's Day.
Steamed Oysters with Tangerine Peel Sauce (陳皮蒸鮮蠔)

Preparation time: 25 minutes
Slow cooking time: 25 minutes

24 oysters
1/2 oz. dried tangerine peel (陳皮)
2 dried sour plums (話梅)
1 teaspoon minced ginger
2 teaspoons light soy sauce (生抽)
1 tablespoon Shaoxing cooking wine (紹興料酒)
1 teaspoon sugar
1 cup water
1 tablespoon vegetable oil
5 or 6 kumquats and cilantro for garnish

Clean and shuck the oysters and arrange them on the half shell on two round platters that can fit in two steamers. Be sure to retain as much of the oyster liquor in the half shell as possible during shucking. Keep the oysters refrigerated until ready to steam.
Gently simmer the tangerine peel, dried sour plums, minced ginger, soy sauce, wine, sugar and water in a small 1-quart saucepan. Cook for about 15 minutes then cool slightly. Take the sour plum out and scrape the pulp off the pit then set aside. Take the tangerine peel out and mince it into a paste. Return both the sour plum pulp and tangerine peel paste to the liquid. Finally add the vegetable oil to the sauce and keep warm over very low heat. Alternatively you can use a blender to make the sauce being careful to maintain a rough consistency.
When ready to serve steam the oysters over boiling water for about three minutes. Do not overcook the oysters. Then cover the oysters with about half teaspoonful of the sauce. Garnish each oyster with a slice of kumquat and a small cilantro leaf. Serve immediately.