I worked on a stir-fry technique post just before Chinese New Year, and was hoping to post it right after the banquet post. But the response to my red bean paste meringue dumpling, or Gao Li Dou Sha (高力豆沙), was so overwhelming that I decided to replace that post with a recipe for the dumpling instead.
I was rather surprised by the response to this sweet dish. My prior experience with serving red bean paste was not always very successful. Perhaps the manner it was served had something to do with it. The concept of fried dough is very familiar to the American palate. However, there is a surprise when one bites into it. The hot steamy center with earthy bean fragrance, plus the crisp elastic dough together create a completely new sensation.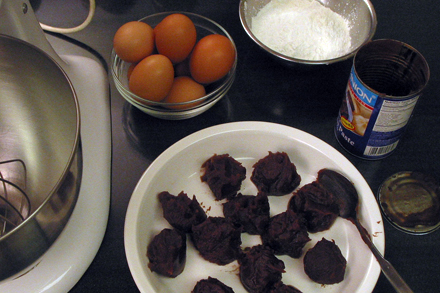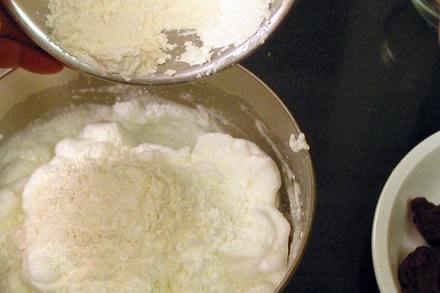 Traditionally there is no dessert concept in Chinese cuisine, and meals regularly end with a fruit course. As Western influence enters into Chinese cooking many people are beginning to include sweet snack food at the end of a meal. Snack food (點心, 小吃) is a very well established cooking style in Chinese cuisine that includes savory and sweet dishes in small servings. The best known of all is the Cantonese Dim Sum. Gao Li Dou Sha, originally a snack dish from the Beijing area, is now commonly found in restaurants as dessert.
The secret to making Gao Li Dou Sha is good meringue batter. A good proportion of flour and starch in the egg white results in an elastic and yet moist wrapping for the dumpling. Just like other risen egg white dishes such as soufflé, Gao Li Dou Sha should be served immediately after frying before the meringue collapses and the crispiness expires.
Red bean paste is made from azuki bean and is widely used in Japanese and Korean dishes as well. Sometimes I make it from scratch at home, but more often I use commercially available canned red bean paste bought from Chinatown. Of course the homemade version has superior flavor and a nice coarse texture, which reminds me of the difference between homemade lumpy mashed potatoes and potato buds. (I may create a post on making homemade red bean paste in the future.)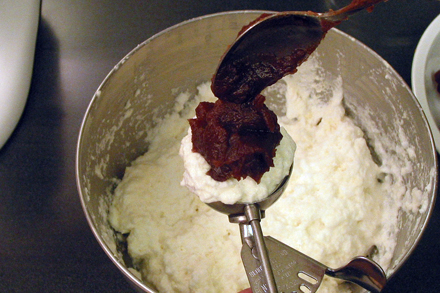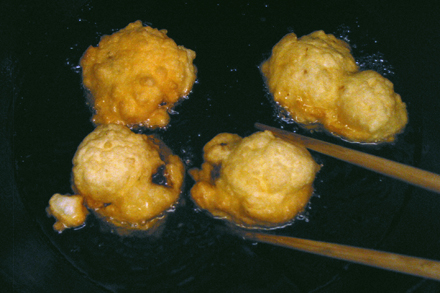 Red Bean Paste Meringue Dumpling (高力豆沙)
Print Recipe
Ingredients
Filling
1

can

red bean paste (豆沙)

about 18 ounces

1/4

cup

lard

(optional)
Meringue
egg white

from 8 eggs

1/2

cup

flour

1/2

cup

cornstarch

or tapioca starch
Additional Ingredients
5

cups

vegetable oil

for frying

granulated sugar

for garnishing
Instructions
A traditional Chinese cook would add lard to the red bean paste. Then heat the mixture in a wok until slightly caramelized. This process definitely enhances the flavor of the filling but in view of health concerns I often omit it.

Scoop out twelve equal lumps of red bean paste and arrange them on a plate. This process will help you fill the dumpling as you start frying. Beat the egg white until stiff peak, and then add the flour and cornstarch. Mix well until the batter becomes smooth.

Heat the vegetable oil in a wok or in a deep frying pan on medium high heat. The oil should not be too hot as the dumpling should be heated all the way through before the outside burns. You can test the oil by dropping a small lump of the meringue into the oil. It should sizzle slowly.

Fill an ice cream scoop with meringue. Drop a portion of red bean paste into the scoop. Then cover the red bean paste with a spoonful of meringue. Drop the battered red bean paste into the hot oil by inverting the scoop and squeezing the handle at the same time. This should create a perfectly shaped dumpling. Moving quickly you can cook about six dumplings in the oil simultaneously.

Use tongs or a pair of extra long chopsticks to turn the dumplings occasionally to brown them evenly. It should take about 5 minutes to crisp them thoroughly. Drain the dumplings and place them on a paper towel to absorb the extra grease. Serve immediately on a plate and garnish with granulated sugar.
I hope you enjoy this sweet dish as much as our guests at the Chinese New Year Banquet. It is not a very complicated recipe but does require nimbleness during final cooking. Come back to tell me how you fare after you've made it.