First a disclosure. I am a fan of Jennifer 8. Lee's writing so everything I am about to write is terribly biased. This is not a review of Jenny's book, The Fortune Cookie Chronicles
, but an expression of how it resonates in my life as I discover my Chinese roots through food. Everyone in America is to some extent an immigrant. The closer you are to being a first generation immigrant like me, the more you think about what part of you is "American" and what part of you is not. Jennifer 8. Lee, in her book writes about her food-centered journey of self-discovery just as I continually do.
I grew up in Singapore, a predominantly Chinese society, yet I never completely feel "Chinese." Partly it was the intended educational influence by the Singaporean government to create a Singapore identity. Thanks to my father's insistence on a Chinese language based education I learned Chinese language literature and history. Now I'm completely bi-lingual, which empowers me the tools to explore my own roots.
While reading The Fortune Cookie Chronicles I feel the same tug and curiosity, described by Jenny, to learn the origin and customs behind what I eat. Perhaps it is the omnipresent food culture in Singapore that gives me this fascination. But I would argue that culinary art is as much a part of a culture as is literature, art and music. It defines how a society matures and its food preparation develops from necessity to pleasure.
While I make many discoveries whenever I explore food culture in China, I did not fully commit to a comprehensive investigation. I salute Jenny for taking that bold step in undertaking such an incredible amount of research, and finding her food roots; especially through her American cultural lens. Jenny traced the story of Chinese food via a happenstance winning of the Powerball lottery by a large number of players throughout the Powerball states. As it turned out almost all of the winners had played the lottery based on their fortune cookie numbers. Jenny's Chinese obsession with this phenomenon brought her to the restaurants, then on to the fortune cookie manufacturers, the workers in those restaurants and back to China where it all began.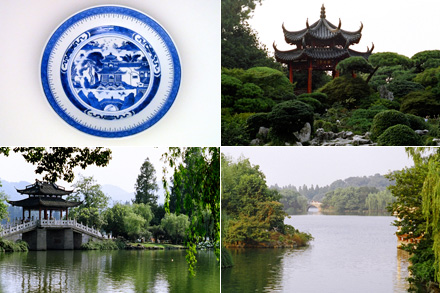 One remarkable notion that stood out in comparing my experience with hers is how I discover the existence rather than the non-existence of certain food culture. Whereas she learns General Tso's Chicken and fortune cookie does not originate in China, I discover Fujianese vegetable rice is in fact a staple in our ancestral home. Another unforgettable discovery for me was on my first visit to Hangzhou, while touring West Lake it struck me that the beautiful lake scene resembles the classic blue and white china pattern. Here is the common plate on which I served countless meals, and yet I never thought of the actual existence of such a scene.
In her book Jenny completed an incredible journey of self-discovery through her food experience. I suspect I will probably never complete my own culinary journey. The Chinese culinary roots are so deep and extensive I doubt a lifetime is even sufficient to comprehend and digest. I recently asked Jenny to share some of her personal thoughts on writing her book in an email interview. Tomorrow I will post her complete replies so please come back and discover more about Jenny through her own words.