This January whisked by at a breakneck pace without my realizing that it is over. During the month I taught cooking classes, consulted restaurant entrepreneurs, advised market researchers on Chinese sauces, and cooked a guest chef dinner at a restaurant. I am quite baffled by how cooking has turned into such a central role in my life. Yet for many years this is what I aspired to do. Three years ago this month I wrote my first post on Red Cook coaxed by my neighbor, Kim of The Yummy Mommy and Charcutepalooza fame. It has become a way for me to share my passion for Chinese cooking with others as well as to discover opportunities to work as a culinary professional. Thanks to my many enthusiastic supporters I am starting to do what I truly love.
Right after the New Year I consulted with a group of Ukrainian entrepreneurs that is planning to open a Pan-Asian restaurant in Kiev. I demonstrated Chinese cooking techniques while we discussed the differences between Chinese and Western cooking. We analyzed and attempted to figure out how to present Chinese food to Eastern European customers. All the while their enthusiasm piqued my interest in visiting Kiev to explore the restaurant scene there first hand.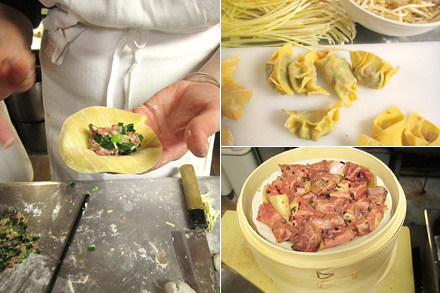 Two years ago I started teaching Chinese cooking at the Institute of Culinary Education, then last September I taught my first class at the Brooklyn Kitchen. This month I developed a new class on dim sum for them. At this class students learned to make fried spring rolls, wonton, shumai, stuffed vegetables and steamed pork ribs. Both classes were very successful and I am looking forward to offering more classes there.
I also got a chance to repeat this dim sum class at another Brooklyn venue, the Purple Yam restaurant. Amy Besa and her chef husband Romy Dorotan operated the successful Soho restaurant Cendrillon for many years. Just over a year ago they opened Purple Yam in Ditmas Park after closing Cendrillon. They continued to offer their own version of eclectic pan-Asian fare, which is eagerly embraced by the neighbors. Deciding to extend community outreach they offer occasional cooking classes at the restaurant and invited me to participate. The dim sum class was promptly sold out and welcomed.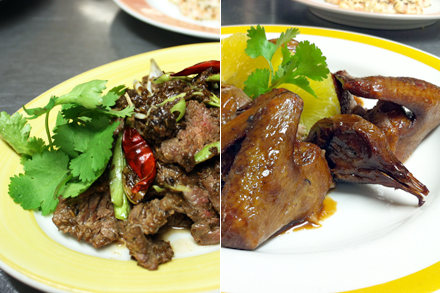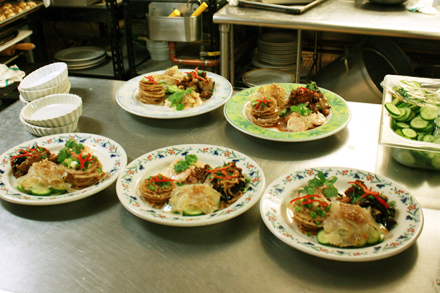 In addition to the cooking class they also asked me to be part of their guest chef program. On January 27th I created a ten-course Chinese New Year Dinner in celebration of the upcoming Year of the Rabbit. I spent two days working with the staff to prepare the dinner and the menu included highlights such as Tea Smoked Squab with Orange Anise Sauce, Braised Baby Napa Cabbage with Conpoy Sauce, Pork with Asian Pear Soup and Steamed Carp with Sour Plum Sauce. On that night the restaurant was miraculously packed in spite of heavy snowfall the night before.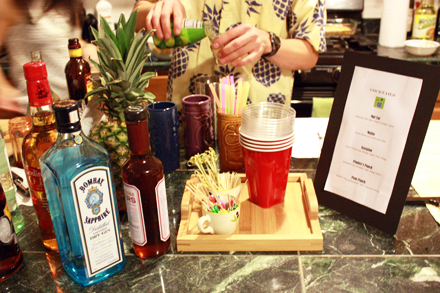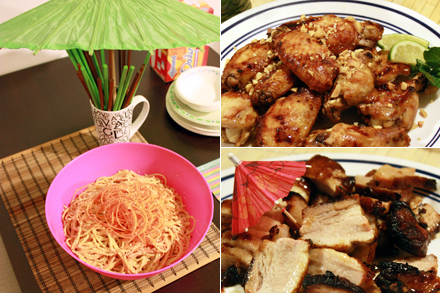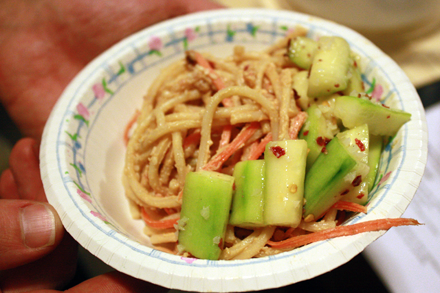 Just about then my February schedule appeared to be equally hectic. I needed a break desperately. Fortunately an invitation arrived for a Mid-Winter Tiki Party from Diana Kuan of Appetite for China, someone I met through Red Cook. So last Saturday night Warren and I trekked through knee-deep snow, from the numerous snowstorms that hit New York this month, to get to her Brooklyn apartment, where we could simply enjoy exotic cocktails and fabulous food in the warm tropical Tiki environment.
I am grateful for the opportunity to meet so many wonderful people and to do work I thoroughly enjoy. I am delighted that many Red Cook fans write me and tell me how they enjoy what I'm doing. I can only say I'm very thankful to have such wonderful fans and supporters and I look forward to sharing even more of my work in the future. Thank you from the bottom of my heart.