Now that farmers' market season is in full swing we are spoiled by an abundance of fresh produce. Lettuces, summer squashes and radishes cram the stalls of just about every green market. Sold in a variety of rainbow colors, radishes are especially plentiful, and they're almost always sold with their greens attached. Most Americans, however, routinely ask the vendors to cut off the greens or they discard them at home. It's unfortunate because these greens are delicious and nutritious. In northeastern China the slightly peppery leaves are used in many different ways, including in stir-fries, salads and steamed buns.
Poetically known as radish tassels (蘿蔔纓), radish greens are often grown with the intention of harvesting the young, tender leaves before the roots develop. Depending on the season, different varieties of young radish greens are available in markets throughout northern China. In the summer, small red globe radish greens are usually on offer, whereas daikon radish greens come to market during the autumn.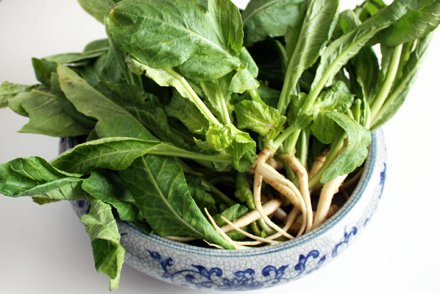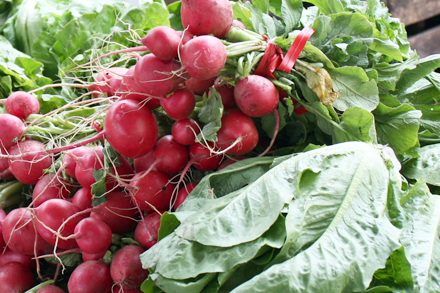 As in America, in China mature radishes are sold with greens attached. But, we almost always save the greens and cook them. A simple, popular preparation is stir-fried greens with garlic. Using the simple stir-fry technique start by frying chopped garlic in some vegetable oil for a few seconds then add radish greens and season with salt and ground white pepper. Stir-fry until they are just wilted. In less than a minute you end up with a deliciously simple vegetable dish.
In Shandong, on the northeast coast of China, a very popular way of using the radish greens is to fold them into steamed buns. When I was in Qingdao last November, these scrumptious little steamed buns were brought out piping hot towards the end of just about every meal. The filling was juicy and full of flavor. Perfect for rounding out the multitude of seafood dishes served during most meals in that region.
When I interviewed Chef Zhou Feng at Fuxin Hotel in Qingdao about the region's cooking, I learned that the filling was simply made from chopped up blanched radish greens mixed with ground pork and dried shrimp. The mixture is then wrapped in basic yeasted dough and steamed. Following his instructions I developed the recipe below for steamed pork and radish greens buns (蘿蔔纓包子).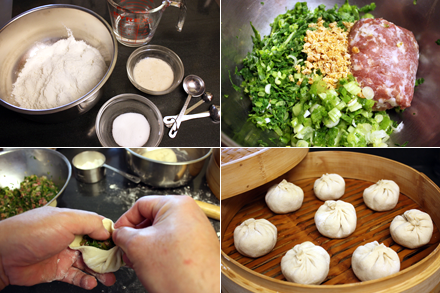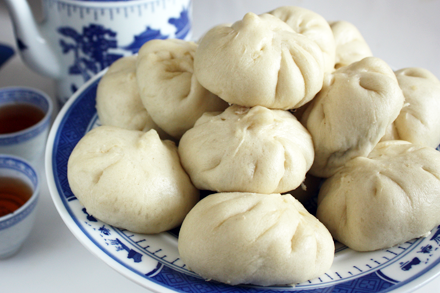 You can use greens from any type of radish, or you can also substitute with turnip greens, which are often available in regular supermarkets. In autumn months in New York's Chinatown I can occasionally find the young tender daikon radish greens; if you find them, choose them. Whatever type of greens you use, select those that look tender with light green color lest they should be too fibrous.
All this to say, don't discard radish greens anymore. Not only will they offer you nutritious food but they also help reduce waste while saving money. Think of eating radish greens as virtual dumpster diving.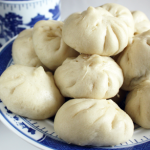 Steamed Pork and Radish Greens Buns (蘿蔔纓包子)
Print Recipe
Ingredients
Filling
12

ounces

radish greens (蘿蔔纓)

or turnip greens

8

ounces

ground pork

1

ounce

dried shrimp (蝦米)

finely chopped

1/2

cup

scallion

finely chopped

1

teaspoon

salt

1/4

teaspoon

ground white pepper

1

tablespoon

toasted sesame oil
Dough
2

cups

all purpose flour

2

teaspoon

active dry yeast

1

tablespoon

sugar

1/2

teaspoon

salt

1

tablespoon

vegetable oil

3/4

cup

water

warm about 75 to 80 degrees F

1

teaspoon

baking soda
Instructions
Proof the yeast by adding the sugar and about three tablespoons of warm water. Let the mixture sit for about five minutes. Make sure bubbles form in the mixture. Add the flour, salt, vegetable oil and the rest of the water to the proven yeast. Knead the dough until smooth. Put the dough in a bowl that will contain double of its size. Cover with plastic wrap or a wet towel. Let the dough rise in a warm spot.

Wash and blanch the radish greens in hot water for about one minute or until just wilted. Drain and squeeze all excess water from the greens. Cut the radish greens into small pieces of about 1/8-inch wide. In a medium mixing bowl combine all the filling ingredients and set aside.

After about one hour, or when the dough has doubled in size punch it down and sprinkle it with the baking soda. Knead the dough for about three minutes or until the baking soda is evenly distributed.

Divide the dough into four equal portions. Roll one of the portions into a cylinder about six inches long. Cut the dough into six equal portions. Roll each piece into a ball with your hands. Flatten and roll each call into a five-inch diameter round using a rolling pin.

Put a dough round on one of your palms. Scoop about two tablespoonsful of the filling onto the center of the dough. With the other hand starting on one edge of the dough, use your thumb and index finger to pleat the dough as you turn the bun around in your palm.

Arrange the sealed buns in two twelve-inch diameter bamboo steamers lined with perforated wax paper or cheesecloth. Be sure the allow enough room between the buns for them to expand. Put the steamers over boiling water in a wok and steam for about ten minutes. Serve these buns piping hot.