A month ago Sabino from Baltimore submitted a comment on the Red Cooked Pork Redux post. It was a comment like I have never seen before. Not only was it voluminous it was also very insightful. He asked detailed questions on cooking and serving red cooked pork. I'm gratified that my readers are actually making authentic Chinese food and are sharing their experiences along the way. I feel compelled to devote an entire post to address the issues brought up in his comments. So here I am writing my third post on the subject of red cooked pork.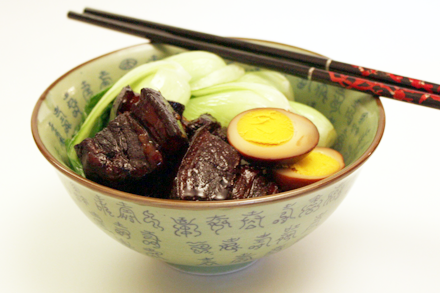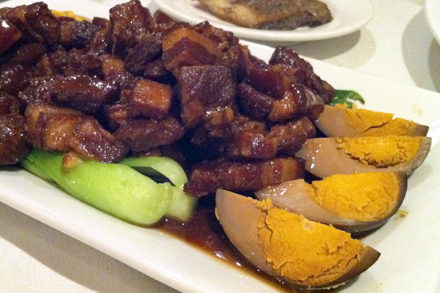 Red cooked pork is an iconic Chinese traditional comfort food akin to meatloaf in an American home. As such there are many different variations and ways for preparing it. Many families have secret recipes that are passed down for generations. So is there a best way to make red cooked pork? No. There are, however, steps and tips that would undeniably produce a better tasting result. So here are my thoughts…
The Meat

By definition red cooked pork should be made using pork belly. This is the most tender cut of pork suitable for braising, which is what red cooking is about. The gelatin from the skin contributes to the final silky thick consistency of the sauce. Personally I would not replace it with other cuts of pork.

"But it is so unhealthy!" That's the refrain often repeated and, yes, I concur. However, there are ways to minimize the fat consumption. Many people are not aware that most of the fat renders during the long hours of braising and leaves mostly connective tissue and lean meat. I suggest you make this dish a day ahead. Separate the meat from the sauce and refrigerate them overnight in different containers. The next day the fat will have solidified on top of the sauce jelly and you can easily discard it before reheating. Admittedly it does not completely remove all the fat. Red cooked pork is still a dish one would consume in moderation.

Eating the fat connective tissue is an acquired taste. I remember only a few years ago my non-Asian guests would balk at eating the fat of the red cooked pork at my dinner parties. Now everyone seeks out the tender marbleized pork belly when I serve this dish. In fact it is almost impossible to avoid pork belly on restaurant menus these days in New York and other cities. I believe the enjoyment of red cooked pork requires educating the palate and understanding the health issues.

Par-Boiling

When I first started cooking Chinese food many years ago my Aunt Hong told me that it is important to always par-boil meat that is intended for braising or soup making. I used to think of this step as redundant and cumbersome. For years I made my red cooked pork by simply browning the meat in caramel then adding liquid to start braising. But then I realized the resulting sauce was almost always muddied with residue and looked rather unappetizing.

I experimented with different variations of par-boiling and caramelizing. My conclusion is that the best result comes from the four-step technique of first par-boiling the original large slab of pork until cooked through, then cutting it up into pieces and caramelizing the meat in sugar, before braising in the aromatic ingredients.

Par-boiling pork in plain water creates a thick film of congealed pork blood on the surface of the liquid that can be removed with a very fine mesh skimmer. Or you can simply discard the cooking liquid and retain the clean slab of pork belly to cut up for braising. Removing the scum at this stage makes it possible to produce a clean sauce at the end.

These steps are described in more detail in my Red Cooked Pork Redux post. I recommend reading it and not skipping this step.

Caramelizing

Caramelizing is one of the most important steps in making red cooked pork. I suggest using granulated sugar in my recipe because it is readily available. The key is to prevent the sugar from getting burnt. To avoid burning make sure the heat is reduced to medium just as the sugar turns a yellowish color. Immediately add the pork pieces to the caramel. The moisture from the pork will in fact dissolve the sugar and evenly coat the meat. If you wait until the sugar has become too dark before adding the meat. The caramel will harden just as Sabino wrote in his comment.

At this point keep the heat at medium and regularly toss and turn the meat so it browns gradually and evenly. Be aware that as the fat starts rendering it often splatters. You may want to use a splatter guard to reduce the chance of any accidental burning.

Traditional Chinese recipes call for using rock sugar to caramelize. If you decide to use rock sugar, it should be heated and dissolved in about 1/4 cup of water. Let the syrup cook down until it begins to turn yellow. From here continue with adding the pork pieces and caramelizing over medium heat.

If you are able to obtain it, I recommend using rock sugar because it will give the sauce a beautiful glistening quality.

The Sauce

Different people reduce the sauce to varying degrees of thickness. There is no definite rule for reducing the sauce. For me I like the silky texture similar to a demi-glace in French cooking. The sauce should hold together in a thick layer when poured on a plate. If you're serving the red cooked pork with rice I suggest a thinner sauce. Pouring this runnier sauce over rice makes a much more flavorful combination.

It is advisable to remove the meat once it has cooked to the appropriate tenderness. That way you can reduce the sauce without over cooking the meat.

Serving Suggestions

In a Chinese meal we always serve a combination of meat, vegetable and grain. A meal for four often includes one meat dish, one vegetable dish, one soup or cold dish, and a rice or noodle dish. The meal remains nutritionally balanced and excessive fat intake is limited. Therefore red cooked pork is rarely served on its own.

When served as lunch over rice red cooked pork is almost always paired with stir-fried bok choy or another green vegetable. Cucumber salad or other refreshing pickles often accompany red cooked pork when served in a bun.
I hope this post clarifies many of the issues arising from making red cooked pork. I want to thank Sabino for taking the time to write his comments. It is this community sharing spirit that makes Red Cook a success. And lets hear it for pork belly!