My family is originally from the coastal Chinese province of Fujian. Traditionally our noodles are cooked in soup, boiled unadorned except for seasonings, or stir-fried in a wok with a thin sauce. When I was about ten years old my family went to a Cantonese dim sum house in Singapore, which at that time was an exotic excursion for a family accustomed to mostly eating Fujianese food. We were served a pan-fried noodles dish of delicious seafood vegetable sauce dripping all over thin golden brown crispy noodles. That was the beginning of my life long love affair with Hong Kong pan-fried noodles.
Similar to the old-fashioned American Chinese food known as chow mein, Hong Kong pan-fried noodles share the same name in transliteration. In Cantonese it is in fact called "chow mein," which means fried noodles. But they are not exactly the same.
In both cases the noodles are characteristically crunchy. While the noodles in the American version are thick and dry and have the consistency of a cheese stick, noodles prepared in the Hong Kong style are thin like vermicelli that are fried like pancake with crispy surface and soft center. The sauces in both cases are made with meat accompanied by a mixture of vegetables covered in a fair amount of thickened gravy. In the American version though the vegetables are mostly ingredients easily available at local markets such as celery, bean sprouts, carrots and onion. They are regularly overcooked to the point that the individual vegetable looses its own distinctive well-rounded flavor that complements the noodles.
There are enough differences between American chow mein and Hong Kong pan-fried noodles that food historians wonder if these are versions of the same dish, or whether they developed separately. In his book, Chop Suey: A Cultural History of Chinese Food in the United States
, food historian Andrew Coe argues for separate development when he states that "Although the chow mein that was cooked in the Pearl River Delta (in China) was a distinct dish, as served in the uptown joints (away from downtown Chinatown) chow mien was simply chop suey over fried noodles instead of rice." I speculate that the early Chinese settlers were very likely trying to recreate Hong Kong style pan-fried noodles but with limited access to Chinese ingredients ended up creating the American chow mein.
Old-fashioned American chow mein is now very rare and hard to find. It is easy to see why people are abandoning the American version and falling in love with the authentic kind. It is flavorful and easy to make. My neighbor, Kim, has become a devoted fan of the Hong Kong style pan-fried noodles. She fell in love with this dish after I served it one Sunday dinner as a last minute meal. She now regularly stocks up noodles that she buys from Chinatown in her freezer. Then when her daughters Lucy and Edie are in the mood for noodles she'd prep all the ingredients in the afternoon and pan-fry the noodles at the last minute while stir-frying the toppings at the same time. So try my recipe and you might also fall in love with it.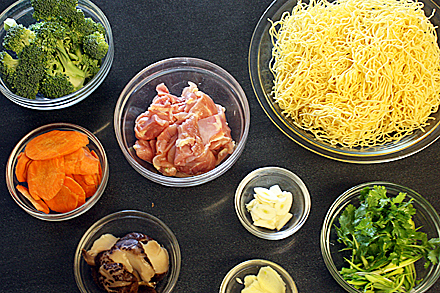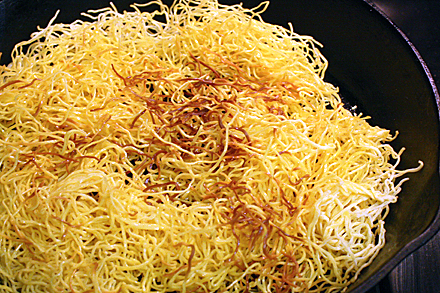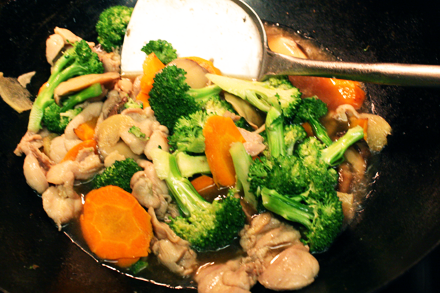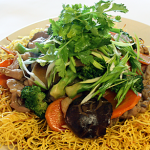 Hong Kong Pan-Fried Noodles with Chicken (港式雞肉炒麵)
Print Recipe
Ingredients
8

ounces

Hong Kong style noodles

for pan-frying

8

ounces

chicken breast

cut into 1/8-inch thick slices

3

ounces

carrot

cut into 1/16-inch slices

1

ounce

dried shiitake mushrooms

rehydrated and cut into halves

5

ounces

broccoli

florets

1/2

cup

water

6

tablespoons

vegetable oil

separated

1/4

ounce

garlic

cut into 1/16-inch thick slices

1/4

ounce

fresh ginger

cut into 1/16-inch thick slices

1

scallion

cut into very thin shreds

4 – 5

sprigs

cilantro
Chicken Marinade
1/4

teaspoon

salt

1

teaspoon

cornstarch

1

tablespoon

Shaoxing cooking wine (紹興料酒)
Sauce
1/4

cup

Shaoxing cooking wine (紹興料酒)

1-1/2

cups

chicken stock

or water

2

tablespoons

soy sauce

2

tablespoons

oyster sauce

1/4

teaspoon

ground white pepper

Cornstarch slurry made from 2 tablespoons cornstarch and 3 tablespoons water
Instructions
Combine the chicken marinade ingredients and mix well. Marinade the chicken slices for about 20 minutes.

Over medium setting heat 2 tablespoons of vegetable oil in a large frying pan until hot, about one minute. Spread the noodles evenly in the frying pan. Pan-fry the noodles on both sides until golden brown, or about 8 to 10 minutes on each side.

Heat a wok over high setting until hot, about two minutes. Swirl 2 tablespoons vegetable oil into the wok and heat for another minute. Put the marinated chicken slices in the wok and stir-fry until the exterior of the chicken has completely changed color, about 2 minutes. Remove the chicken from the wok and set aside.

Wipe the wok clean and heat it over a high setting until hot. Swirl 2 tablespoons vegetable oil into the wok. Add the ginger and garlic slices and stir-fry until fragrant, about 30 seconds. Add the carrot slices and stir-fry for about one minute. Add the shiitake mushrooms and broccoli to the wok and stir fry for another minute. Add about a half cup of water while stir-frying the vegetables if necessary to prevent them from scorching. Cover the wok and continue to cook for one more minute.

Return the chicken slices to the wok and add all the sauce ingredients except for the cornstarch slurry. Cook until the sauce starts to bubble then add the cornstarch slurry. Continue to cook until the sauce thickens.

Place the crisp-fried noodles on a large round platter then pour the chicken sauce over the noodles. Garnish with the scallion slices and cilantro sprigs. Serve immediately.