The last six months of 2012 passed by me stealthily without my realizing it. The new year is here and I find I have neglected Red Cook during those months. But I've not abandoned Red Cook, so the report of Red Cook's death was an exaggeration. With another Chinese New Year coming up, I am determined to restart my blogging effort. Please accept my apology for this interruption and I hope to engage you in Chinese cooking once again.
Perhaps you're curious as to what I've been doing during the last six months. I assure you that I've been busy, quite busy in fact. In addition to consulting with restaurants and teaching Chinese cooking, I signed a contract with Clarkson Potter to write a Chinese cookbook. This is my very first solo cookbook project. (Some of you may know that I co-wrote another Chinese cookbook
a few years ago with Belinda Hulin.) Since late fall I've devoted almost all of my time to the book necessitating the reduction of my work at Lotus Blue.
This book will be an entertaining and approachable Chinese cookbook reflecting my years of research and practical experience with Chinese cooking techniques. Ever since I started cooking in college I've studied classic Chinese cooking method meticulously from books and texts in both Chinese and English scoured from all over Asia. I hope to complete the manuscript this fall and the book should be ready for publication next year.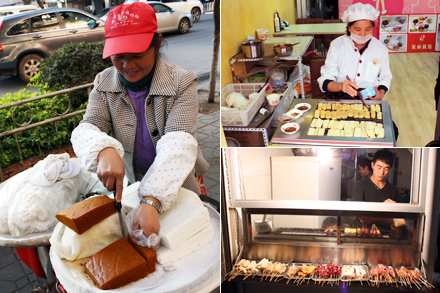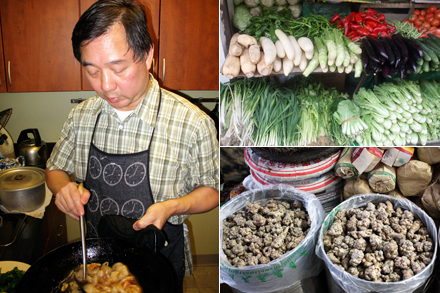 To do more research I made trips to China, Hong Kong and Singapore last year and will be making another trip to China in March. I hope to visit chefs and home cooks to learn more about practical cooking techniques and visit libraries to consult original texts on Chinese cooking. You can follow my progress on Red Cook.
Although this book project will occupy a tremendous amount of my time I am determined to be more active on Red Cook. It was five years ago that I started sharing my cooking adventures on Red Cook. I am incredibly grateful for all the support I've received from so many friends and colleagues in sharing my culinary passion. So here's to the sixth year of Red Cook and best wishes in the coming year of the snake!