Just south of Prospect Park in Brooklyn bounded by Church Avenue to the north, Coney Island Avenue to the west, Beverly Road to the south and the Q line subway track to the east is an oasis of Victorian residences. Known as Prospect Park South the area was built around the turn of the 20th century for discriminating New Yorkers looking for a suburban lifestyle. Our friends Lauren and Maureen fell in love with one of these houses when they were hunting for a home about a decade ago. It was a huge rambling grey house in need of repair with an overgrown garden in the back. Although they knew there was incredible potential for the house, it wasn't until they started clearing the garden that they discovered the real treasure: raspberry brambles.
After moving into the house Lauren and Maureen cleared the overgrowth from the garden and nurtured the neglected brambles. They corralled the canes meticulously within a manageable area with wooden supports. They pruned the canes every season to encourage vigorous growth, and after a few years of scrupulous cultivation the brambles began to produce an abundance of sweet juicy raspberries every summer.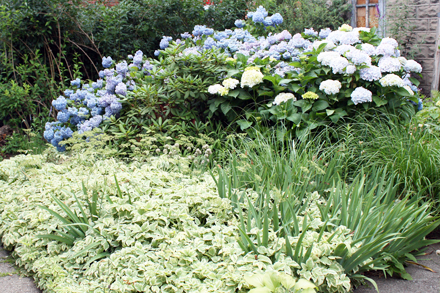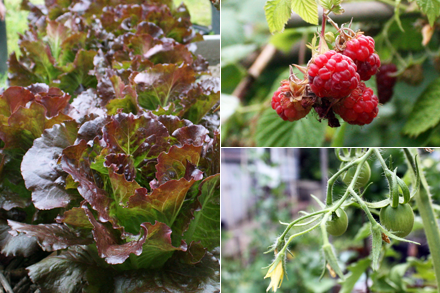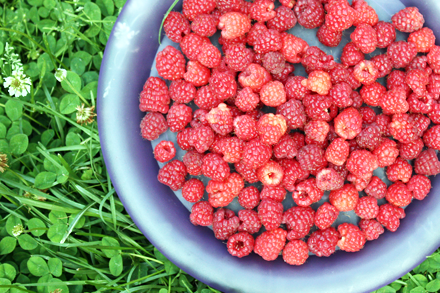 Three years ago Lauren and Maureen started hosting a raspberry picking party in mid-June. Warren and I are very fortunate to be included in the guests list every year and have not missed a season since. Last Sunday was this year's party and we were there. The berries were ripe and ready to be picked. It didn't take much encouragement for the guests to swarm the brambles and start picking while popping every other berry into the mouth. We managed to collect plenty of berries for the party table. Maureen brought out a bowlful of crème fraise, which was all that's needed to accompany this most delectable fruit of summer. We even restrained ourselves from eating all the berries and brought some home without devouring them on the subway.
Although red raspberries are thought to have originated in Asia Minor, they were not common in East or Southeast Asia until recently. Just like in America raspberries are now plentiful and available there year round. Thanks to globalization of the farming industry, New Zealand, Australian and Californian raspberries are flown to markets all over Asia. It may very well be a luxury to enjoy raspberries everywhere all the time, but these commercial berries cannot rival the intense flavor of sun ripen raspberries freshly picked from the brambles.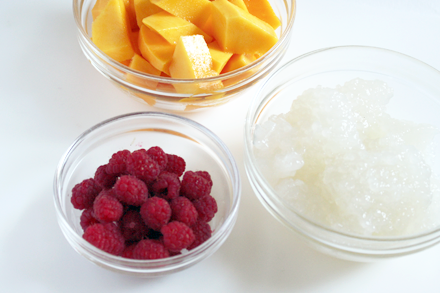 Raspberries are mostly consumed as fresh fruit or made into Western-style pastries in Asia. After an unsuccessful search I soon realized raspberries are not known to be used in traditional Chinese cooking. So I thought to combine them with another Asian fruit: mango. There are plenty of ways to use mangoes in Chinese cooking, and one particularly refreshing preparation is a tapioca pudding flavored with mango purée and coconut milk. So I made this pudding and garnished it with the raspberries from Brooklyn. You can find the recipe for this pudding below. Enjoy it and have a great summer!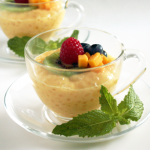 Mango Coconut Tapioca Pudding (椰奶芒果西米露)
Print Recipe
Ingredients
1/2

cup

tapioca pearls

(small)

1 1/2

cup

water

1/4

cup

sugar
Mango Purée
8

oz.

mango

from one 1 pound whole mango

1/2

cup

coconut milk

1/4

cup

sugar
Garnish
1/2

cup

blueberries

6

raspberries

1

kiwi fruit

8

oz.

mango

from one 1 pound whole mango
Instructions
Tapioca pearls can be found in Asian markets. But they can be substituted with instant tapioca from the supermarket. Follow the directions for cooking the instant tapioca. Do not add any custard. Instead mix in the mango purée into the tapioca. Adjust the sweetness as desired. Do not use tapioca pudding mix for this recipe.

Soak the tapioca pearls in about 1 cup of water for about two hours. Then bring another cup of water to a boil in a medium pot. Add the sugar to the water and stir until completely dissolved. Then drain the tapioca pearls thoroughly and add to the boiling water. Immediately turn the heat down to low. Stir the tapioca continuously until the pearls are just about done with a small-uncooked white spot in the middle. Turn the heat off and cover the pot for about 20 minutes. The tapioca pearls will continue to cook. Refrigerate when the tapioca is completely cooked.

Put all the ingredients for the mango purée into a blender and pulse until they are completely blended. Refrigerate the mango purée. Add the mango purée to the tapioca pearls when chilled and mix thoroughly to make the pudding. Keep the pudding refrigerated until ready to serve.

Cut up the remaining mango flesh into small pieces of about 1/4 inch square and set aside. Peel the kiwi fruit and cut into 1/8 inch thick slices and set aside.

To assemble scoop about 1/2 cup of the pudding into a small bowl or cup then garnish with the sliced fruits and berries.