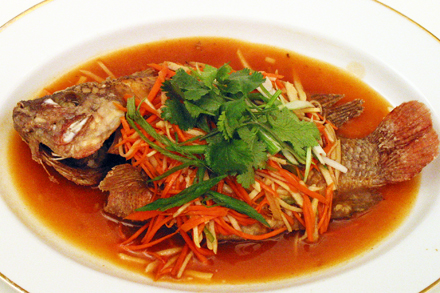 October, which is the National Seafood Month, has been re-christened to National Sustainable Seafood Month by organizations concerned with the well being of our oceans and food supply. Our oceans are facing great dangers from over fishing and unfettered pollution. Last month Jacqueline Church, who blogs at The Leather District Gourmet from Boston, called for food bloggers to participate in a virtual blog event to highlight awareness of these dangers. She created the "2008 Teach a Man to Fish Sustainable Seafood Blog Event." She asked bloggers to create and share recipes from sustainable seafood. I decided to participate in this event by contributing my favorite way of preparing a sustainable fish: Sweet and Sour Tilapia.
Tilapia is a fresh water fish that is in the carp family. Its cultivation was first recorded more than four thousand years ago in ancient Egypt and it is currently farmed throughout the world in South America, Africa, and Asia, as well as the U.S. Along the Atlantic seaboard there are tilapia farms in Massachusetts, New York, Virginia and Florida. Tilapia adapts easily to modern farming technology that uses closed circulatory filtration system and reduces discharges of pollution. This makes tilapia the perfect candidate for this National Sustainable Seafood Month project.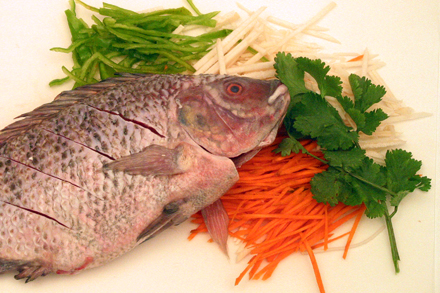 Tilapia has a wonderfully mild yet earthy flavor because it is not an oily fish. It readily absorbs the flavors from a marinate or a sauce and lends itself to a wide varieties of preparation. Recently though a controversial report suggested that because tilapia contains more Omega-6 than Omega-3 fatty acids, it may not be a good choice for a heart-healthy diet. But a group of researchers from diet research centers all over the world argues that the total amount of these fatty acids in one serving of tilapia is still much less than from a serving of bacon or hamburger. For me I think it is still a healthy choice, and a delicious one at that.
My favorite way to prepare tilapia is in a sweet and sour sauce. Yes, I do like sweet and sour sauce. But not the kind one often finds in Chinese restaurants in America. No chunks of red and green peppers, and pineapples stuck in a heavily thickened gooey sauce. My sweet and sour sauce is a light and subtly flavored one that enhances the flavor of the fish instead of overwhelming it. Try this recipe and you'll know the difference between a good and a bad sweet and sour sauce.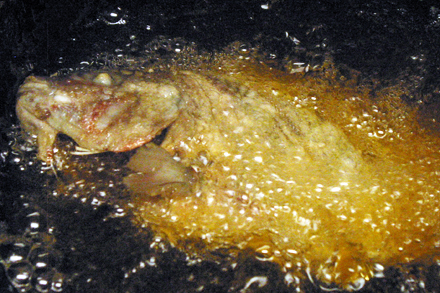 Sweet and Sour Tilapia (甜酸羅非魚)

Preparation time: 20 minutes
Rapid cooking time: 20 minutes

1 whole tilapia (1 1/2 to 2 lb. )
1 teaspoon salt
1/4 cup cornstarch for breading
8 cups vegetable oil
1/4 cup thinly shredded carrots
1/4 cup thinly shredded bamboo shoots
1 tablespoon thinly shredded green chili peppers (optional)
1 teaspoon garlic
1 teaspoon finely chopped ginger
1/4 cup water or chicken stock

Sweet and Sour Sauce

1/4 cup tomato ketchup
1 tablespoon white rice vinegar
1 tablespoon sugar
1 tablespoon light soy sauce
2 tablespoons Shaoxing cooking wine (紹興料酒)
1 teaspoon cornstarch
Thinly sliced scallion and cilantro sprigs for garnish

Scale and clean the tilapia, and cut slanted slits on both sides. Salt the fish and dredge thoroughly in cornstarch including the head and tail. Set aside. Prepare the shredded carrots, bamboo shoots and chili peppers and set them aside. Mix all the Sweet and Sour Sauce ingredients together in a mixing bowl and set aside.
Heat the vegetable oil in a wok until it almost reaches the smoking point. Deep-fry the tilapia in the hot oil for about 5 minutes on one side, then turn it over and continue to fry for 3 minutes on the other side. Drain thoroughly and place the fish on paper towel to absorb excess oil.
Drain all but one tablespoon of the oil from the wok and place it in a metal container. On medium heat fry the chopped garlic and ginger for about one minute then add the shredded carrots, bamboo shoots and water. Continue to cook for another 3 minutes until the carrots are al dente. Add the Sweet and Sour Sauce mixture along with the shredded chili peppers. Cook until the sauce is thickened.
Place the fried tilapia on an oval plate and pour the sauce all over the fish. Garnish with the scallion and cilantro and serve immediately.