Located virtually on the equator, Singapore offers a wide variety of fresh fruits year round. Although many tropical fruits are harvested year round, a small number of them are seasonal. When I lived in Singapore I used to follow these seasonal fruits like people in temperate climates follow changing season. Among the seasonal fruits, mango is the one I always eagerly anticipated. Its season starts at the end of the dry months, which is around July. Local mangoes start appearing in the markets around August and continue to be available through October.
Of all the mangoes available during this annual season, my favorite is an Indonesian variety called Arum Manis, which began to be available in Singapore in the 1980's. The fruit is elongated in shape but the skin remains green even when ripen. The flesh however varies from yellow to orange and has an incredibly intoxicating fragrance. I would always consume them fresh and unadulterated. It is simply too delicious to be used in cooking or processing. There is no justification for it.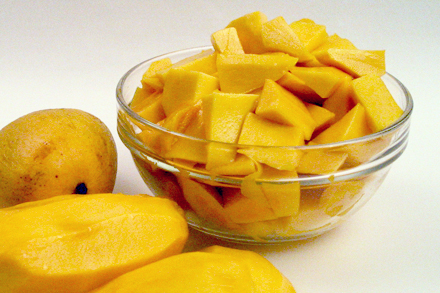 Here in the U.S. mangoes are now available year round. But the best time for them is between May and September. That's when the best quality and most varieties of mangoes from the Caribbean become available. They are bountiful in New York Chinatown currently. I especially like the Haitian variety. They are sweet, fragrant and less fibrous. Although I enjoy them fresh, they are also excellent for making mango pudding.
Mango pudding is one of those dishes that were created by Cantonese chefs in Hong Kong to satisfy the modern demand for Chinese desserts. Although it is not a traditional dish, it is a refreshing and delicious creation. I consider it to be one of the most successful creations by Chinese chefs in fusing Western dessert tradition and Asian ingredients.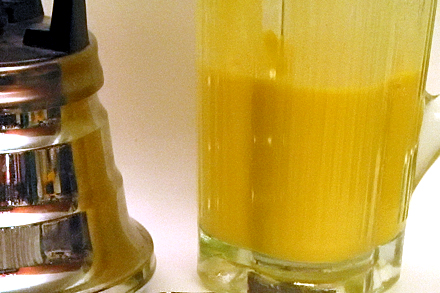 Mango Pudding (芒果布丁)

Preparation time: 30 minutes

1 cup hot water
1 cup evaporated milk
3 packets unflavored gelatin
1 1/2 cups mango puree (about 2 medium size mango)
1/4 cup fresh mango pieces of about 1/4-inch cubes (optional)
1/3 cup sugar
Additional evaporated milk for topping

Use fresh ripe Haitian mangoes if you can find them. Skin the fruit and cut the flesh of the mango into about two or three-inch square pieces. Put the pieces into a blender and puree. You will need about two medium size mangoes to make 1 1/2 cups of puree.
Put the gelatin in a glass bowl and soften with the hot water. Let stand for about 3 minutes. Then add the evaporated milk and the sugar and mix until the sugar is completely dissolved. Next add the mango puree and mix well. Add the fresh mango cubes if you desire and mix. Put the mixture into a non-reactive mold made of glass or plastic. Chill in the refrigerator over night.
To unmold the pudding submerge the mold in hot water for about 30 seconds. Turn the mold over and unmold onto a shallow dish. Serve topped with additional evaporated milk.